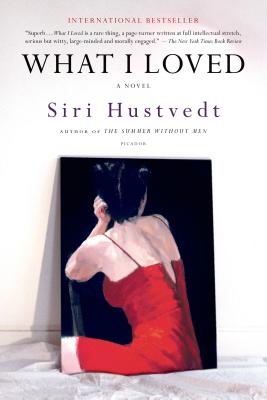 What I Loved
A Novel
Paperback

* Individual store prices may vary.
Description
Siri Hustvedt's What I Loved begins in New York in 1975, when art historian Leo Hertzberg discovers an extraordinary painting by an unknown artist in a SoHo gallery. He buys the work; tracks down the artist, Bill Wechsler; and the two men embark on a life-long friendship. Leo's story, which spans twenty-five years, follows the growing involvement between his family and Bill's--an intricate constellation of attachments that includes the two men, their wives, Erica and Violet, and their sons, Matthew and Mark.

The families live in the same New York apartment building, rent a house together in the summers and keep up a lively exchange of ideas about life and art, but the bonds between them are tested, first by sudden tragedy, and then by a monstrous duplicity that slowly comes to the surface. A beautifully written novel that combines the intimacy of a family saga with the suspense of a thriller, What I Loved is a deeply moving story about art, love, loss, and betrayal.
Praise For What I Loved: A Novel…
"Superb. . .What I Loved is a rare thing, a page turner written at full intellectual stretch, serious but witty, large-minded and morally engaged." —The New York Times Book Review

"So richly imagined is the art in her book that it serves not just to illuminate hidden emotions but also as a subject in itself. . .A wrenching portrait of parental grief, then a psychological thriller, and finally a meditation on the perspective of memory." —Vogue

"A great book. The twinning of narrative pleasure with intellectual rigor isn't rare. In fact, it's easy to find if you're plowing through, say, the Modern Library, engaging with classics that come to you already canonized and annointed. But to stumble into such a relationship with a contemporary. . .writer is a heady feeling. Those of us who read new fiction dream of finding such a book." —Newsday

"No image is wasted, no sentence superfluous in creating a novel that teems with ideas, emotions.... Hustvedt's novel is a quietly astounding work of fiction that defies categorization." —Los Angeles Times

"A remarkable achievement of Siri Hustvedt's prose, with its attention to nuance and intricacy is its demonstration that friendship is a powerful form of intelligence. The book's final pages acknowledge nearly overwhelming loss, but because the reader understands so much, their sadness feels almost like joy." —The Washington Post
Picador, 9780312421199, 384pp.
Publication Date: March 1, 2004
About the Author
Siri Hustvedt was born in 1955 in Northfield, Minnesota. She has a Ph.D. from Columbia University in English literature and is the internationally acclaimed author of several novels, The Sorrows of an American, What I Loved, The Enchantment of Lily Dahl, The Blindfold, and The Summer Without Men, as well as a growing body of nonfiction, including Living, Thinking, Looking, A Plea for Eros, and Mysteries of the Rectangle, and an interdisciplinary investigation of the body and mind in The Shaking Woman or A History of My Nerves. She has given lectures on artists and theories of art at the Prado, the Metropolitan Museum of Art in New York, and the Academy of Fine Arts in Munich. In 2011, she delivered the thirty-ninth annual Freud Lecture in Vienna. She lives in Brooklyn.
Leo Hertzberg asks, "what is memory's perspective?" (p. 21) How does this apply to his reminiscences in the account of his life during the twenty-five years that make up this novel?
The ambiguity between male and female is a theme examined throughout the book. Discuss the way in which each character deals with gender. Violet explains what she calls "mixing" (see p. 91). The art critic Hasseborg claims Teddy Giles' art to be a "spectacle of shifting identities." How does this turn up in the writings of Violet, Bill's work, and Matt's drawings? What does Mark's crossdressing mean? In what way is sexual ambiguity erotic?
In Bill's first paintings of Violet she is growing and shrinking (i.e. "Self-Portrait"). Discuss how this imagery affects Leo when he first sees it, and then later after Matthew is gone. How does it pertain to the other characters as they age throughout the novel? How is the concept of hunger manifested in Violet's research and writing? in Bill's art? in Erica's grief? How does Teenie Gold embody these ideas in the latter part of the book?
Bill's constructions incorporate Violet's research regarding hysterics and dermagraphism (see p. 71). "Hansel & Gretel" (pp.81-2) is influenced by Violet's study of anorexia. How does Violet's work affect Bill's art? Discuss the various iconography he borrows from her and how it informs his work.
How are Bill's two marriages different from one another?
Throughout the novel Lucille remains somewhat of a mystery. Is she unknowable? How does her reserve affect the other characters? Why is she not more involved in Mark's welfare? Discuss the game Mark invented as a child that he played with Violet, and the way in which it deals with his feelings about a stepmother.
Is it possible for a marriage to survive the death of a child? Discuss how Erica and other characters handle the grief of Matt's death. How are parents to deal with the heartache of raising troubled children?
As a child, Matthew becomes worried about the concept of turning four. What does this reveal about his character? How is it manifested in his thinking and in his art? In the inventions of the character Dave, and the Ghostly Boy? Who do these represent?

Mark begins making collages (see p.171). How does his work relate to Matthew's? to Bill's? Even his assemblage of items when he takes over Matthew's room? Is Mark trying to emulate his father? He also takes on different personas (as with Teddy) and voices. Is Mark's life his creation, is this self-invention his art?
Another of Bill's works was a fairy tale-like project called "The Changeling." How did this piece play with the concepts of doubles and mirror images, and the idea of 'substitution?' Leo thinks about it years later regarding Mark when he remembers the stolen child in a glass coffin. Discuss this imagery, as well as Bill's series of doors and letters.
How has the experience of the Holocaust informed the work of both Bill and Erica? What are examples of the Holocaust imagery in Bill's art, in his paintings of Violet? in his homage's to his father? See p. 84 for Leo's description of "words of rescue" and his exploration of this idea in Bill's work "Hansel and Gretel."

Leo is not a visual artist, but the private collection of objects in his drawer are a sort of art piece. Discuss in what way these objects become a recording of absence and how Leo's arrangement of them in different combinations produces various associations. How do they serve Leo as muses of memory and relate to the title of the novel?
Mark shows signs of his illness even in early childhood. Should everyone have recognized the seriousness of Mark's condition earlier? Were they afraid for him? or of him? What does it mean when Mark's therapist calls the boy's problems "characterological"? What does a characterological illness mean? Why is Mark so susceptible to Teddy Giles? Is it simply, as he states, that he is infected by a stronger personality? Is Mark an amoral character?
The New York art scene described in the novel embraced Giles' work as a clever take on the horror genre, when it was actually the sadistic fantasies of a murderer. Discuss how the cultural media can mistake monstrosity for brilliance. What is the role of the power of art in the novel?