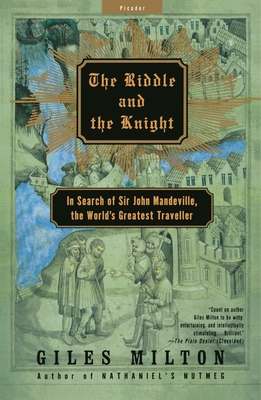 The Riddle and the Knight
In Search of Sir John Mandeville, the World's Greatest Traveler
Paperback

* Individual store prices may vary.
Description
Giles Milton's first book, The Riddle and the Knight, is a fascinating account of the legend of Sir John Mandeville, a long-forgotten knight who was once the most famous writer in medieval Europe. Mandeville wrote a book about his voyage around the world that became a beacon that lit the way for the great expeditions of the Renaissance, and his exploits and adventures provided inspiration for writers such as Shakespeare, Milton, and Keats. By the nineteenth century however, his claims were largely discredited by academics. Giles Milton set off in the footsteps of Mandeville, in order to test his amazing claims, and to restore Mandeville to his rightful place in the literature of exploration.
Praise For The Riddle and the Knight: In Search of Sir John Mandeville, the World's Greatest Traveler…
"Count on author Giles Milton to be witty, entertaining and intellectually stimulating....Brilliant." —The Plain Dealer (Cleveland)

"[Milton] demonstrate[s] his sharp eye for the significant detail or event....Engaging." —The New York Times Book Review

"A rare and excellent work that combines scholarship with intrigue, Milton's book may induce that wonderful swoon usually contracted after long hours researching libraries and labyrinths of history." —Publishers Weekly

"Pioneer traveller or shameless charlatan, Sir John Mandeville had a huge influence both on the history of exploration and on all subsequent English literature. Here at last is a book which, while always readable and amusing, takes Sir John Mandeville as seriously as he deserves." —John Julius Norwich
Picador, 9780312421298, 240pp.
Publication Date: November 1, 2002
About the Author
Giles Milton is the internationally bestselling author of a dozen works of narrative history, including Soldier, Sailor, Frogman, Spy, Airman, Gangster, Kill or Die: How the Allies Won on D-Day. His previous work, Churchill's Ministry of Ungentlemanly Warfare, is currently being developed into a major TV series. Milton's works—published in twenty-five languages—include Nathaniel's Nutmeg, serialized by the BBC. He lives in London and Burgundy.