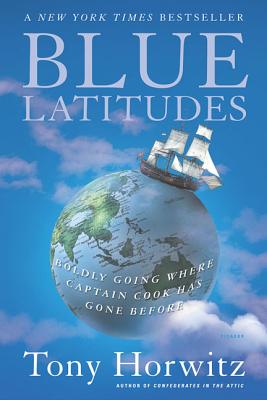 Blue Latitudes (Paperback)
Boldly Going Where Captain Cook Has Gone Before
Picador, 9780312422608, 496pp.
Publication Date: August 1, 2003
* Individual store prices may vary.
Description
Boldly Going Where Captain Cook Has Gone Before
Two centuries after James Cook's epic voyages of discovery, Tony Horwitz takes readers on a wild ride across hemispheres and centuries to recapture the Captain's adventures and explore his embattled legacy in today's Pacific. Horwitz, a Pulitzer Prize-winner and author of Confederates in the Attic, works as a sailor aboard a replica of Cook's ship, meets island kings and beauty queens, and carouses the South Seas with a hilarious and disgraceful travel companion, an Aussie named Roger. He also creates a brilliant portrait of Cook: an impoverished farmboy who became the greatest navigator in British history and forever changed the lands he touched. Poignant, probing, antic, and exhilarating, Blue Latitudes brings to life a man who helped create the global village we inhabit today.
About the Author
Tony Horwitz is a native of Washington, D.C., and a graduate of Brown University and Columbia University's Graduate School of Journalism. He worked for many years as a reporter, first in Indiana and then during a decade overseas in Australia, Europe, Africa, and the Middle East, mostly covering wars and conflicts as a foreign correspondent for The Wall Street Journal. After returning to the States, he won the Pulitzer Prize for national reporting and worked as a staff writer for The New Yorker before becoming a full-time author.
His books include Midnight Rising, A Voyage Long and Strange, Blue Latitudes, a national and New York Times bestseller about the Pacific voyages of Captain James Cook, Baghdad Without a Map, a national bestseller about the Middle East, and Confederates in the Attic, a national and New York Times bestseller about the Civil War.
Horwitz has been a fellow at the Radcliffe Institute for Advanced Study at Harvard University and a visiting scholar at the John Carter Brown Library at Brown University. He lives with his wife, Geraldine Brooks, and their son, Nathaniel, on the island of Martha's Vineyard in Massachusetts.
Praise For Blue Latitudes: Boldly Going Where Captain Cook Has Gone Before…
"Thoroughly enjoyable. No writer has better captured the heroic enigma that was Captain James Cook than Tony Horwitz in this amiable and enthralling excursion around the Pacific." —Bill Bryson, author of In a Sunburned Country
"Tony Horwitz's Blue Latitudes is one of the best. . . full of humor. . . an elegant running account of Cook's exploits." —The New York Times Book Review (cover review)
"Part history, part travelogue -- and mostly just great fun. . . This is history on a global scale, and Horwitz tells it surpassingly well." —Los Angeles Times
"A tour de force of evocative history, serious scholarship, and compelling writing." —The Washington Post
"Part Cook biography, part travelogue, and very much a stroke of genius." —The Philadelphia Inquirer
"Hilarious, brainy, and balanced. . . .A trip with Horwitz is as good as it gets." —The Charlotte Observer
"Tony Horwitz has done it again. . . Keen insight, open-mindedness and laugh-out-loud humor." —San Francisco Chronicle
"A staggering blend of historical research, character study, sociological analysis, and intriguing tales of travel." —The Boston Globe
"Curiosity, intelligence, compassion and a sense of adventure. . . I love reading Tony Horwitz." —Chicago Tribune
"Horwitz succeeds brilliantly in turning the English from stiff icons to flesh-and-blood human beings. The book's constant humor, honesty and judgment recall his own Confederates in the Attic and Bill Bryson's A Walk in the Woods.. . . This book will keep you enthralled." —The Seattle Time