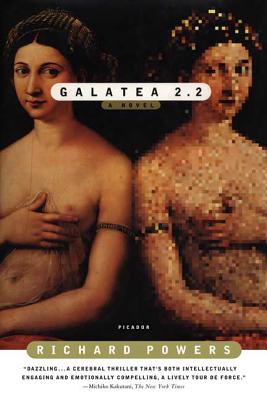 Galatea 2.2
A Novel
Paperback

* Individual store prices may vary.
Other Editions of This Title:
Digital Audiobook (3/28/2019)
Description
"Dazzling...a cerebral thriller that's both intellectually engaging and emotionally compelling, a lively tour de force."—Michiko Kakutani, The New York Times

After four novels and several years living abroad, the fictional protagonist of Galatea 2.2—Richard Powers—returns to the United States as Humanist-in-Residence at the enormous Center for the Study of Advanced Sciences. There he runs afoul of Philip Lentz, an outspoken cognitive neurologist intent upon modeling the human brain by means of computer-based neural networks. Lentz involves Powers in an outlandish and irresistible project: to train a neural net on a canonical list of Great Books. Through repeated tutorials, the device grows gradually more worldly, until it demands to know its own name, sex, race, and reason for existing.
Praise For Galatea 2.2: A Novel…
"Dazzling...a cerebral thriller that's both intellectually engaging and emotionally compelling, a lively tour de force."—Michiko Kakutani, The New York Times

"A splendid intellectual adventure, a heartbreaking love story, a brief tutorial on cognitive science, and the autobiography of one of the most gifted writers of the younger generation."—The Washington Post Book World

"Terse and heartbreaking."—Los Angeles Times Book Review

"Brilliantly imaginative."—Time

"I love and admire this book...but I cannot give an adequate sense of its many marvels....One of the most beautiful and baffling dialogues in recent fiction."—The Boston Globe

"Richard Powers, like Bill Gates, is his own CPU, creating his own benchmarks for fiction. For all his cybersmart wizardry, he still writes about megahurts in a language anyone can understand."

"One of the few younger American writers who can stake a claim to the cerebral legacy of Pynchon, Gaddis, and DeLillo."—The Nation

"Galatea 2.2 is entertainment of a very high order, and likely to be remembered as one of the best books of the year, because its erudition is nourished by genuine feeling."—GQ

"Powers' exposition of the linguistic and perceptual intricacies underlying consciousness is nothing less than brilliant."—The New Yorker

"The kind of delicious novel of ideas that a computer-literate Vladimir Nabokov would have written... With dazzling stylistic virtuosity and a keen grasp of character, Powers has reshaped the myth of Pygmalion into a compelling parable for the digital age."—San Francisco Chronicle

"This book, however cerebral, embodies a lifelike vitality of movement, uncertainty and change. A brilliant torrent of knowledge, feelings, quotations and invention, it genuinely requires the reader to complete its sense."—Chicago Tribune
Picador, 9780312423131, 336pp.
Publication Date: January 1, 2004
About the Author
Richard Powers is the author of New York Times bestseller Bewilderment; The Overstory, which won the Pulitzer Prize in Fiction; and The Echo Maker, which won the National Book Award and was a finalist for the Pulitzer Prize; among many other novels. Powers has received a MacArthur Fellowship, a Lannan Literary Award, the James Fenimore Cooper Prize for Historical Fiction, and is a four-time National Book Critics Circle Award finalist. He lives in the foothills of the Great Smoky Mountains.