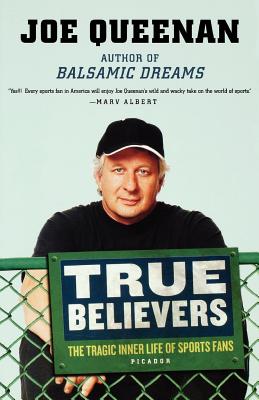 True Believers: The Tragic Inner Life of Sports Fans (Paperback)
The Tragic Inner Life of Sports Fans
Picador USA, 9780312423216, 236pp.
Publication Date: April 1, 2004
Description
Why do fans live and die with their teams? For Yankee, Cowboy, and Laker fans the answer is fairly clear: the return on investment is relatively high. But why do people root so passionately for tragically inept teams like the Boston Red Sox, the Chicago Cubs, and the Philadelphia Phillies? Why do people organize their emotional lives around lackluster franchises such as the Cleveland Cavaliers, the San Diego Padres, and the Phoenix Suns, none of whom have ever won a single championship in their entire history? Is it pure tribalism? An attempt to maintain contact with one's vanished childhood?
In "True Believers," humorist and lifelong Philly fan Joe Queenan answers these and many other questions, shedding light on--and reveling in--the culture and psychology of his countless fellow fans.
About the Author
The author of the bestselling Balsamic Dreams, Joe Queenan is a contributing editor at Men's Health, Smart Money, and Movie Line. He lives in Tarrytown, New York.
Praise For True Believers: The Tragic Inner Life of Sports Fans…
"Yes!!! Every sports fan in America will enjoy Joe Queenan's wild and wacky take on the world of sports." --Marv Albert

"If it weren't for fans, I'd be out of a job. And if it weren't for Joe Queenan, I'd be clueless on exactly what makes fans tick. When you read True Believers you can't help but think back to those moments when a ball game, a player, or a telecast had a lifelong impact. When I finished it I wanted to call that old Phillies' catcher Clay Dalrymple and tell him I still haven't forgotten that he once tossed me a ball on his way to the dugout."--Ernie Johnson

"A riveting inside look at sports fans in America--a terrific book."--Tim McCarver

"Hilarious."--John Rezek, Playboy

"Great reading for fans who want a few insights into their personal demon and a few laughs, too." --Booklist (starred)


"Should be required reading not just for the folks of the sardonic subtitle but also for their wives, girlfriends, and sports-phobic pals. . .In this hilarious and strangely erudite book, Queenan doesn't overwrite his subject--for a die-hard fan knows what to do when the buzzer sounds: go home."--Publishers Weekly

"Theologically as fierce as a Jesuit in his study of the personality disorder that dictates unreasoned fidelity to bands of congenital losers, Queenan unleashes his accustomed wit.. . .Queenan's no philosophical Roger Kahn or David Halberstam, but he's got game, especially if cussing and yelling are involved. . .Undeniably funny." --Kirkus Reviews
Advertisement