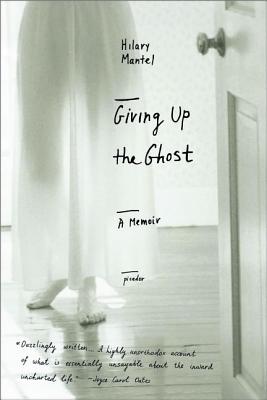 Giving Up the Ghost (Paperback)
A Memoir
Picador, 9780312423629, 240pp.
Publication Date: September 1, 2004
Other Editions of This Title:
Hardcover (11/7/2017)
Hardcover (10/1/2003)
* Individual store prices may vary.
Description
New York Times bestselling author Hilary Mantel, two-time winner of the Man Booker Prize, is one of the world's most accomplished and acclaimed fiction writers. Giving Up the Ghost, is her dazzling memoir of a career blighted by physical pain in which her singular imagination supplied compensation for the life her body was denied.
Selected by the New York Times as one of the 50 Best Memoirs of the Past 50 Years
"The story of my own childhood is a complicated sentence that I am always trying to finish, to finish and put behind me."
In postwar rural England, Hilary Mantel grew up convinced that the most extraordinary feats were within her grasp. But at nineteen, she became ill. Through years of misdiagnosis, she suffered patronizing psychiatric treatment and destructive surgery that left her without hope of children.
Beset by pain and sadness, she decided to "write herself into being"—one novel after another. This wry and visceral memoir will certainly bring new converts to Mantel's dark genius.
"Mesmerizing."—The New York Times
About the Author
Hilary Mantel is the two-time winner of the Man Booker Prize for her best-selling novels, Wolf Hall, and its sequel, Bring Up the Bodies. Both novels have been translated into more than 30 languages and sold over 5 million copies worldwide. Mantel is the author of over a dozen books, including A Place of Greater Safety, Beyond Black, and the memoir Giving Up the Ghost. In 2014 she was appointed Commander of the Order of the British Empire.
Praise For Giving Up the Ghost: A Memoir…
"Dazzlingly written...a highly unorthodox account of what is essentially unsayable about the inward uncharted life." —Joyce Carol Oates, The New York Review of Books
"The matter is bitter, but Mantel's angular wit is as unquenchable as her anger; the reading experience is reliably exhilarating because of the sheer excellence of the writing." —New York Times Book Review
"Blazing insights [and] poetic discourses that rattle the soul...Mantel doesn't simply hit close to home, she knocks at our closets and opens our doors." —The Boston Globe
"Mantel's talents are stronger than her misfortunes...[this book comes] from the mind of a fine author, whose body has imposed its own terrible penances." —The Washington Post

"Giving Up the Ghost combines the urgency and observation that steer a memoir into the heart of a reader's own experience. I have been touched and also enthralled by this fine book." —Carol Shields, author of The Stone Diaries and Unless
"A stunning evocation of an ill-fitting childhood and a womanhood blighted by medical ineptitude. Hilary Mantel's frank and beautiful memoir is impossible to put down and impossible to forget." —Clare Boylan, author of Beloved Stranger