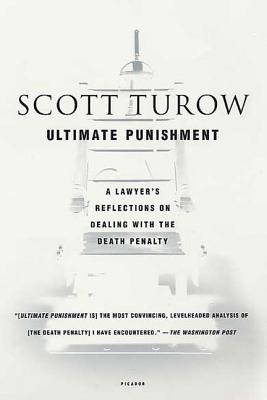 Ultimate Punishment: A Lawyer's Reflections on Dealing with the Death Penalty (Paperback)
A Lawyer's Reflections on Dealing with the Death Penalty
St. Martins Press-3pl, 9780312423735, 176pp.
Publication Date: August 1, 2004
Description
A gripping examination of the case for and against capital punishment by a respected criminal lawyer and celebrated novelist. In the words of Harvard Law Professor, Laurence H. Tribe--""Ultimate Punishment" is the ultimate statement about the death penalty: to read it is to understand why law alone cannot make us whole."
As a respected criminal lawyer, Scott Turow has been involved with the death penalty for more than a decade, including successfully representing two different men convicted in death-penalty prosecutions. In this vivid account of how his views on the death penalty have evolved, Turow describes his own experiences with capital punishment from his days as an impassioned young prosecutor to his recent service on the Illinois commission which investigated the administration of the death penalty and influenced Governor George Ryan's unprecedented commutation of the sentences of 164 death row inmates on his last day in office. Telling the powerful stories behind the statistics, as he moves from the Governor's Mansion to Illinois's state-of-the art "super-max" prison and the execution chamber, "Ultimate Punishment" has all the drama and intellectual substance of Turow's bestselling fiction.
About the Author
Scott Turow is the world-famous author of six bestselling novels about the law, from Presumed Innocent (1987) to Reversible Errors (2002), which centers on a death. He lives with his family outside Chicago where he is a partner in the firm of Sonnenschein, Nath & Rosenthal.
Praise For Ultimate Punishment: A Lawyer's Reflections on Dealing with the Death Penalty…
"This slender but closely argued book is an account of Turow's path to a 'no' vote on capital punishment....As one who has long wrestled with this issue, and who as an editorialist many years ago from time to time had to do that wrestling in public, I regard this as the most convincing, levelheaded analysis of it I have encountered."--The Washington Post

"Concise and incisive...As one would expect from a writer of Turow's gifts, Ultimate Punishment makes for compelling and thoughtful reading."--Chicago Tribune

"Turow's brief narrative illuminates two faces of the death penalty in the United States. Each, as he suggests, should give us serious pause....[Ultimate Punishment is] engaging, and, more important, it speaks to an audience not always considered by death penalty opponents: people, like Turow himself, for whom capital punishment has a strong visceral appeal. Turow does not minimize either the nature of the crimes or the deep anger they evoke in the people forced to reckon with them. He gets it. He will thus be read with sympathy by readers open to arguments against capital punishment but alienated by what they perceive, rightly or wrongly, as the indifference of abolitionists to the suffering of the victims."--Los Angeles Times

"By clearly and methodically sorting through the issues regarding the ultimate punishment, Turow has performed a public service. By turns shocking and engrossing, this book is highly recommended." --Library Journal
Advertisement