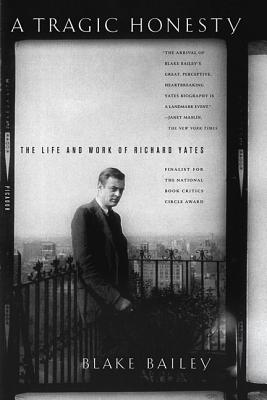 A Tragic Honesty
The Life and Work of Richard Yates
Paperback

* Individual store prices may vary.
Description
Blake Bailey's A Tragic Honesty is the first biography of acclaimed American novelist and story writer Richard Yates

Celebrated in his prime, forgotten in his final years, only to be championed anew by our greatest contemporary authors, Richard Yates has always exposed readers to the unsettling hypocrisies of our modern age. Classic novels such as Revolutionary Road and The Easter Parade are incomparable chronicles of the quiet and not-so-quiet desperation of the American middle-class. Lonely housewives, addled businessmen, desperate career-girls and fearful boys and soldiers, Yates's America was a panorama of high living, self-doubt and self-deception. And in the tradition of other great realistic writers of his time (Fitzgerald and Hemingway, Cheever and Updike), Yates's fictional world mirrored his own. A manic-depressive alcoholic and unapologetic gentleman, his life was a hornets' nest of childhood ghosts, the horrors of war, money woes, and ebullient cocktailed evenings in New York, Hollywood, and the Riviera.

A Tragic Honesty is a masterful evocation of a man who in many ways embodied the struggles of the Great American Writer in the latter half of the twentieth century. Fame and reward followed by heartbreak and obscurity, Richard Yates here stands for what the writer must sacrifice for his craft, the devil's bargain of artistry for happiness, praise for sanity.
Praise For A Tragic Honesty: The Life and Work of Richard Yates…
"The arrival of Blake Bailey's great, perceptive, heartbreaking, Yates biography is a landmark event." —The New York Times

"[A] tremendous book...It's a storytelling success that Bailey can turn Yates's long, slow grind toward obscurity into a fabulous and often hysterical read.... Yates rises up as something he never allowed in his fiction: a hero." —San Francisco Chronicle

"Compulsively readable...Indispensable...Excellent in itself, it records, with photographic accuracy, where Yates's obsessively autobiographical fiction originated." —The New York Times Book Review

"[A] meticulously researched, judicious, and critically perceptive biography...Bailey's version of Yates's life proves to be its own kind of masterpiece, as gripping as the best of Yates's novels, and more inspiring than sad." —The Boston Globe
Picador, 9780312423759, 688pp.
Publication Date: May 1, 2004
About the Author
Blake Bailey is the author of The Sixties and has written for a number of magazines, newspapers, and literary journals. He lives in northern Florida with his wife, Mary Brinkmeyer.