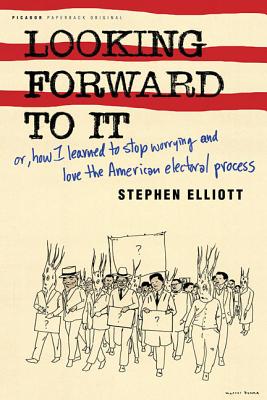 Looking Forward to It: Or, How I Learned to Stop Worrying and Love the American Electoral Process (Paperback)
Or, How I Learned to Stop Worrying and Love the American Electoral Process
Picador USA, 9780312424152, 306pp.
Publication Date: October 1, 2004
Description
Stephen Elliott does not know what to think of American voters, this year's desperate and heated run for presidency, or the legitimacy of the political system. He doesn't know whether to love John Kerry or try to love Howard Dean or try, simply, to get excited about Politics. But what he does know is that most Americans are as confused, taxed and broken-hearted as he is.
"Looking Forward To It" is the chronicle of one ordinary fellow's skeptical -- and hilarious -- journey through the election process. It is on the campaign trail that he will meet washed-out campaign managers, idealistic publicists, corrupt journalists, world-weary auditorium janitors, recovering drug addicts, and, of course, politicians. His report documents a journey into the center of "the thing," our country, where Americans high and low come together to participate in the most profound gesture of democracy: the election.
About the Author
Stephen Elliott is the editor of the anthology Politically Inspired. He is also the author of four novels, including What It Means to Love You and Happy Baby. A contributing writer for The Believer, the San Francisco Chronicle, Newsday, The Village Voice, and McSweeney's, Elliott is the Jones Lecturer at Stanford University and lived, before this year, in San Francisco.
Praise For Looking Forward to It: Or, How I Learned to Stop Worrying and Love the American Electoral Process…
"Stephen Elliott is one of the most versatile and gifted young writers we have. His fiction is wrenching, raw, and unsafe. His political writing, on the other hand, is savvy, loose, very funny and -- truly -- full of rare insights. Also: he is quite hairy."
- Dave Eggers
Advertisement