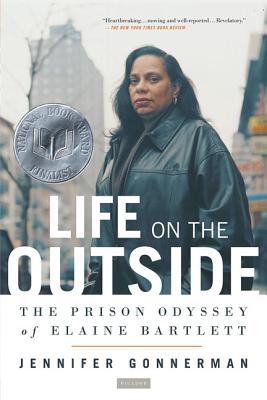 Life on the Outside (Paperback)
The Prison Odyssey of Elaine Bartlett
Picador, 9780312424572, 368pp.
Publication Date: February 1, 2005
* Individual store prices may vary.
Description
Life on the Outside tells the story of Elaine Bartlett, who spent sixteen years in Bedford Hills prison for selling cocaine--a first offense--under New York's Rockefeller drug laws. The book opens on the morning of January 26, 2000, when Bartlett is set free and returns to New York City. At 42, she has virtually nothing: no money, no job, no real home.
All she does have is a large and troubled family, including four children, who live in a decrepit housing project on the Lower East Side. "I left one prison to come home to another," Elaine says. Over the next months, she clashes with her daughters, hunts for a job, visits her son and husband in prison, negotiates the rules of parole, and campaigns for the repeal of the laws that led to her long prison term.
Russell Simmons, founder of Def Jam Records, says: "At a time when the prison-industrial complex is destroying African American families and neighborhoods, Elaine Bartlett is more than a survivor: she is a heroine. The future of our communities depends on women like her."
Life on the Outside is a 2004 National Book Award Finalist for Nonfiction.
About the Author
Jennifer Gonnerman is a prizewinning staff writer for The Village Voice. She has also written for The New York Times Magazine and many other publications. Her article on which Life on the Outside is based won the Livingston Award for Young Journalists in 2001.
Praise For Life on the Outside: The Prison Odyssey of Elaine Bartlett…
"Heartbreaking...moving and well-reported...Revelatory." —The New York Times Book Review (Front Page)
"[A] stirring and ultimately heartbreaking book on what it means to leave prison . . . A remarkably balanced triumph of immersion journalism." —The Washington Post
"[This] book should take its place among [the] classics of urban sociology." —Mother Jones
"Bracingly compassionate, quietly outraged." —Village Voice
"[It] will keep you reading through the night ....This book is a triumph of storytelling." —Alex Kotlowitz, author of There are No Children Here and The Other Side of the River