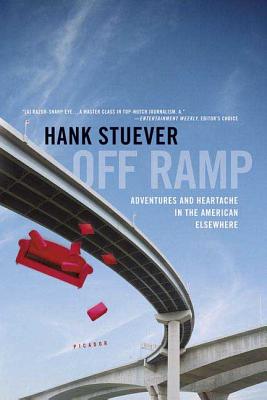 Off Ramp (Paperback)
Adventures and Heartache in the American Elsewhere
Picador, 9780312424886, 320pp.
Publication Date: July 1, 2005
Other Editions of This Title:
Hardcover (7/1/2004)
* Individual store prices may vary.
Description
In his unique, funny, and haunting reports from "Elsewhere," Hank Stuever records the odd and touching realities of modern life in everyday places. Elsewhere might be revealed in the tract-house adventures of a home-décor reality show, at a discount funeral home in a strip mall, or in the story of an armed man named Honey Bear in the hunt for his beloved but now missing sleeper sofa which he left in a store unit. Off Ramp shows us America through the humorous gaze of Hank Stuever, who finds beauty in the midst of the most unlikely and invisible lives and places.
About the Author
Hank Stuever's work is currently seen in The Washington Post, where he is a staff writer. He has twice been named a finalist for the Pulitzer Prize in feature writing and has appeared on Today, MSNBC, and various radio programs. He is the author of Off Ramp: Adventures and Heartache in the American Elsewhere. He lives in Washington, D.C.
Praise For Off Ramp: Adventures and Heartache in the American Elsewhere…
"Wildly funny, caustic, subversive, and a little bizarre around the edges. Stuever's essays display a wonderfully original and confident voice." —Augusten Burroughs, author of Running With Scissors and Dry
"Hank Stuever finds beauty in parts of our country that most Americans would like to see bulldozed and introduces you to people you'll never forget. And he makes you laugh your ass off." —Dan Savage, author of Skipping Towards Gomorrah: The Seven Deadly Sins and the Pursuit of Happiness in America
"The real journey Stuever, a staff writer for the Washington Post, takes is both personal and profound. Whether documenting a wedding in New Mexico, two best friends in Plano, Tex., who swap decorating challenges on Trading Spaces or the challenge of getting a huge sofa into a Washington, D.C., apartment, Stuever looks deep into the American psyche. ... He casts the net wide-and what he catches is a nation gripped by longing, loss, hope and social convention.... This tender, funny, compelling collection is an homage to the rhythms and cadences of modern life." —Publishers Weekly
"The 26 essays and profiles here range from offbeat consumer studies to artful deconstructions of common rituals, all of them underpinned by notes of angst, isolation, and millennial fearfulness. The self-deprecating author ('I got lost a lot . . . and I was not terribly cool') proves adept at fly-on-the-wall reportage, insinuating himself into the lives of quirky or mildly desperate individuals. .... The best essays-a piece on storage-unit culture and a haunting personalization of the Oklahoma City bombing-dig deeper into our domestic isolation and wanderlust. Stuever's work recalls that of David Sedaris or Augusten Burroughs ... but it's generally sweeter and less biting. Low-key, modest pleasures." —Kirkus Reviews