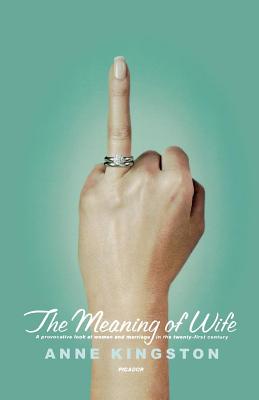 The Meaning of Wife (Paperback)
A Provocative Look at Women and Marriage in the Twenty-first Century
Picador, 9780312425005, 352pp.
Publication Date: March 21, 2006
* Individual store prices may vary.
Description
Delving into the complex, troubling, and sometimes humorous contradictions, illusions, and realities of contemporary wifehood, this book takes the reader on a journey into the wedding industrial complex. Anne Kingston looks at "wife backlash," and the new wave of neo-traditionalism that urges women to marry young; explores the apotheosis of abused wives and the strange celebration of wives who kill; and muses on the fact that Oprah Winfrey and Martha Stewart, two of the world's wealthiest and most influential women, are both unmarried. The result is an entertaining mix of social, sexual, historical, and economic commentary that is bound to stir debate even as it reframes our view of both women and marriage.
About the Author
Anne Kingston's writing has appeared in The Globe and Mail, Saturday Night, Toronto Life, and The Chicago Sun-Times Magazine. She is a columnist for the National Post, where she writes on social and cultural issues.
Praise For The Meaning of Wife: A Provocative Look at Women and Marriage in the Twenty-first Century…
"The Meaning of Wife styles itself in the tradition of Backlash and The Beauty Myth: It's a pop-culture-literate survey of the last 25 years that serves up feminist ideas with a lively touch." —Joy Press, The Village Voice
"In The Meaning of Wife, Kingston ruminates with wit and wide historical range over the peculiar female estate of wife and its modern incarnations. . . . Kingston's spirited romp across the kitchens and boardrooms, bedrooms, courtrooms, and shopping malls of modern culture yields important . . . insights about wife-hood in the twenty-first century." —Chicago Tribune
"Provocative, smart." —Elle
"Entertaining . . . Kingston's quirky sensibility (shades of Caitlin Flanagan) and her clever readings of pop culture make this book stand out. . . . The analysis is delightful." —Newsday