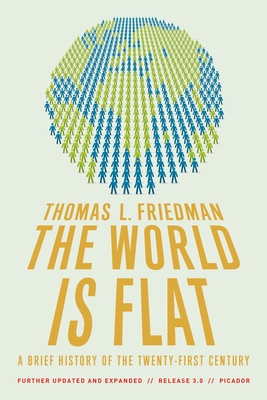 The World Is Flat 3.0
A Brief History of the Twenty-first Century (Further Updated and Expanded)
Paperback

* Individual store prices may vary.
Other Editions of This Title:
Digital Audiobook (7/23/2007)
Digital Audiobook (7/23/2007)
Description
A New Edition of the Phenomenal #1 Bestseller

"One mark of a great book is that it makes you see things in a new way, and Mr. Friedman certainly succeeds in that goal," the Nobel laureate Joseph E. Stiglitz wrote in The New York Times reviewing The World Is Flat in 2005. In this new edition, Thomas L. Friedman includes fresh stories and insights to help us understand the flattening of the world. Weaving new information into his overall thesis, and answering the questions he has been most frequently asked by parents across the country, this third edition also includes two new chapters--on how to be a political activist and social entrepreneur in a flat world; and on the more troubling question of how to manage our reputations and privacy in a world where we are all becoming publishers and public figures.

The World Is Flat 3.0 is an essential update on globalization, its opportunities for individual empowerment, its achievements at lifting millions out of poverty, and its drawbacks--environmental, social, and political, powerfully illuminated by the Pulitzer Prize--winning author of The Lexus and the Olive Tree.
Praise For The World Is Flat 3.0: A Brief History of the Twenty-first Century (Further Updated and Expanded)…
"Captivating . . . an enthralling read. To his great credit, Friedman embraces much of his flat world's complexity, and his reporting brings to vibrant life some beguiling characters and trends. . . . [The World is Flat] is also more lively, provocative, and sophisticated than the overwhelming bulk of foreign policy commentary these days. We've no real idea how the twenty-first century's history will unfold, but this terrifically stimulating book will certainly inspire readers to start thinking it all through." —Warren Bass, The Washington Post

"Nicely sums up the explosion of digital-technology advances during the past fifteen years and places the phenomenon in its global context. . . . Friedman never shrinks from the biggest problems and the thorniest issues." —Paul Magnusson, BusinessWeek

"[This book's] insight is true and deeply important. . . . The metaphor of a flat world, used by Friedman to describe the next phase of globalization, is ingenious." —Fareed Zakaria, The New York Times Book Review (front cover review)

"A brilliant, instantly clarifying metaphor for the latest, arguably the most profound conceptual mega-shift to rock the world in living memory." —David Ticoll, The Globe and Mail (Toronto)

"No one today chronicles global shifts in simple and practical terms quite like Friedman. He plucks insights from his travels and the published press that can leave you spinning like a top. Or rather, a pancake." —Clayton Jones, The Christian Science Monitor

"[The World is Flat] is filled with the kind of close reporting and intimate yet accessible analysis that have been hard to come by. Add in Friedman's winning first-person interjections and masterful use of strategic wonksterisms, and this book should end up on the front seats of quite a few Lexuses and SUVs of all stripes." —Publishers Weekly (starred review)
Picador, 9780312425074, 672pp.
Publication Date: July 24, 2007
About the Author
Thomas L. Friedman is an internationally renowned author, reporter, and columnist-the recipient of three Pulitzer Prizes and the author of six bestselling books, among them From Beirut to Jerusalem and The World Is Flat.

He was born in Minneapolis in 1953, and grew up in the middle-class Minneapolis suburb of St. Louis Park. He graduated from Brandeis University in 1975 with a degree in Mediterranean studies, attended St. Antony's College, Oxford, on a Marshall Scholarship, and received an M.Phil. degree in modern Middle East studies from Oxford. After three years with United Press International, he joined The New York Times, where he has worked ever since as a reporter, correspondent, bureau chief, and columnist. At the Times, he has won three Pulitzer Prizes: in 1983 for international reporting (from Lebanon), in 1988 for international reporting (from Israel), and in 2002 for his columns after the September 11th attacks.

Friedman's first book, From Beirut to Jerusalem, won the National Book Award in 1989. His second book, The Lexus and the Olive Tree: Understanding Globalization (1999), won the Overseas Press Club Award for best book on foreign policy in 2000. In 2002 FSG published a collection of his Pulitzer Prize-winning columns, along with a diary he kept after 9/11, as Longitudes and Attitudes: Exploring the World After September 11. His fourth book, The World Is Flat: A Brief History of the Twenty-first Century (2005) became a #1 New York Times bestseller and received the inaugural Financial Times/Goldman Sachs Business Book of the Year Award in November 2005. A revised and expanded edition was published in hardcover in 2006 and in 2007. The World Is Flat has sold more than 4 million copies in thirty-seven languages.

In 2008 he brought out Hot, Flat, and Crowded, which was published in a revised edition a year later. His sixth book, That Used to Be Us: How American Fell Behind in the World We Invented and How We Can Come Back, co-written with Michael Mandelbaum, was published in 2011.

Thomas L. Friedman lives in Bethesda, Maryland, with his family.