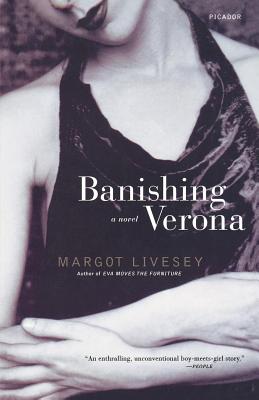 Banishing Verona (Paperback)
A Novel
Picador, 9780312425203, 368pp.
Publication Date: September 1, 2005
Other Editions of This Title:
Hardcover (10/14/2004)
* Individual store prices may vary.
Description
Zeke is twenty-nine and working as a carpenter and painter in London. Verona is thirty-seven, headstrong, and seven months pregnant. When the two meet in a house that Zeke is renovating, they fall in love, only to be separated less than 24 hours later when Verona mysteriously disappears. After much searching, Zeke discovers that Verona has travelled to Boston to help Henry, her brother, disentangle himself from some shady financial matters. As impulsively as he fell for Verona, Zeke decides to follow her to Boston. It is here that both lovers take on further and more desperate searches of their own, and Livesey's sophisticated novel, Banishing Verona, evolves into the most surprising and suspenseful of modern love stories.
About the Author
Margot Livesey is the award-winning author of a story collection, Learning by Heart, and of the novels Homework, Criminals, The Missing World, and Eva Moves the Furniture, which was a New York Times Notable Book, an Atlantic Monthly Best Book of the Year, and a PEN/Winship finalist. Born in Scotland, she currently lives in the Boston area, where she is writer in residence at Emerson College.
Praise For Banishing Verona: A Novel…
"An enthralling, unconventional boy-meets-girl story." —People(four stars)
"In Banishing Verona, Livesey, a first-rate storyteller, examines the ties that bind families and lovers. Her take on life is original, her use of perspective is deft, and her prose lovely. Zeke is captivating." —USA Today
"Livesey is interested not in medical conditions but in the human condition. . . . In fact, [she] expands (as is fiction's mission) our notion of what being human can mean." —The New York Times
"In Livesey's deft hands, their connection is as credible (and incredible) as love itself....[She] pulls it off effortlessly." —The Boston Globe
"Tantalizing . . . Livesey has taken a familiar plot device and has turned it into such a delicious literary construct that it seems new." —Seattle Post-Intelligencer
What makes Verona flee after the first night she spends with Zeke? Why does she nail her clothes to the floor? How does Zeke understand this gesture?
Zeke often feels ill at ease with other people yet in less than forty-eight hours he falls in love with Verona. Why does he respond to her so strongly?
How does Zeke function in the world? Why is restoring antique clocks the perfect hobby for him and why does he think that the clocks amplify his spirit? Zeke tells a nurse that his feelings stay constant as cathedrals. Is this true? What caused his breakdown?
What sort of a man is Henry? How does he rationalize what he does with his grandfather's will? Verona says she and Henry share the same corrupt moral gene. Do you agree? Why does Verona feel such a sense of responsibility to Henry when he clearly thinks only about himself?
What is Henry's attitude to money? How does this affect his relation­ship with his sister, his best friend and the woman he hopes to marry?
Zeke believes that his mother regards him as "broken beyond fixing." Is this really how Gwen sees him? To what extent does her behavior exacerbate his difficulties? What is the nature of Zeke's disorder? Does the novel suggest that his difficulties also have their rewards?
Zeke is described as looking like a Raphael angel and Henry is referred to as beautiful. How do these two very different men relate to their appearance? What else do they have in common that attracts Verona to Zeke?
What makes Zeke decide to tell his father about his mother's infi­delity? Was this the right choice?
Would Jill and Zeke have become friends if they had met in London? What do they have in common besides being visitors to a foreign country?
Near the end of the novel Verona tells Zeke about a princess who is immune to gravity except when she swims in the palace lake. What does Verona hope to suggest by telling this story?
What does the title Banishing Verona refer to? What does Zeke mean at the end of the novel when he says that he'll 'try'? Is there a future for Zeke and Verona?