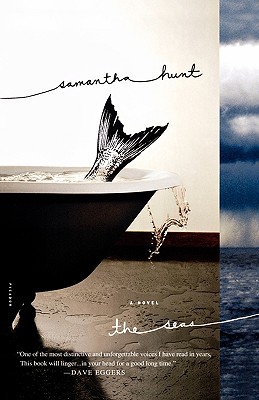 The Seas (Paperback)
Picador USA, 9780312425234, 195pp.
Publication Date: December 27, 2005
Other Editions of This Title:
Hardcover (7/10/2018)
Paperback (7/16/2019)
Hardcover (11/1/2004)
* Individual store prices may vary.
Description
The narrator of The Seas lives in a tiny, remote, alcoholic, cruel seaside town. An occasional chambermaid, granddaughter to a typesetter, and daughter to a dead man, awkward and brave, wayward and willful, she is in love (unrequited) with an Iraq War veteran thirteen years her senior. She is convinced that she is a mermaid. What she does to ease the pain of growing up lands her in prison. What she does to get out is the stuff of legend. In the words of writer Michelle Tea, The Seas is "creepy and poetic, subversive and strangely funny, and] a phenomenal piece of literature."
About the Author
Samantha Hunt grew up in New York and Vermont. She is an artist and a writer. Her stories have appeared in McSweeney's, Cabinet, and on NPR's This American Life. The Seas is her first novel.
Praise For The Seas…
"One of the most distinctive and unforgettable voices I have read in years. This book will linger . . . in your head for a good long time."--Dave Eggers "An aqueous affair, flooded with water themes . . . Hunt's writing is free of affectation and carries surprising conviction."--The New Yorker "Urgently real and magically unreal . . . A breathy, wonderful holler of a novel, deeply lodged in the ocean's merciless blue . . . [Hunt] sinks an anchor into the soul of its lost young protagonist."--The Village Voice (2004 "Top Shelf" selection) "The Seas reads as though . . . John Hawkes had sprouted Márquezian wings, Raymond Carver had lived to see Prozac proliferate. She has some of her tics, for sure--but they're palatable when tinged with the fabulous. . . . It's the book's emotional expressiveness . . . that ultimately breaks the mood's prescribed monotony and lofts it above its precursors."--The New York Observer "To describe Samantha Hunt's entrancing first novel, The Seas, is to try to interpret a watery dream that pushes the boundaries between fiction and fantasy. . . . Hunt's nimbleness makes the idea of leaning toward mermaid fantasies enticing."--San Francisco Chronicle "Hunt's spare narrative is as mysterious and lyrical as a mermaid's song. The strands of her story are touched with magic, strange in the best possible way and very pleasurable to read."--Andrea Barrett
or
Not Currently Available for Direct Purchase