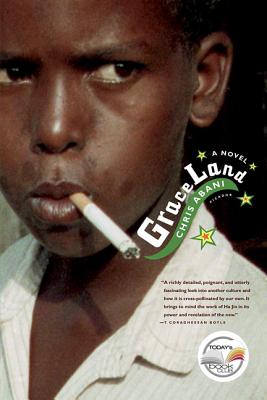 GraceLand
A Novel
Paperback

* Individual store prices may vary.
Other Editions of This Title:
Digital Audiobook (1/6/2005)
Description
Graceland is a dazzling debut by a singular new talent

The sprawling, swampy, cacophonous city of Lagos, Nigeria, provides the backdrop to the story of Elvis, a teenage Elvis impersonator hoping to make his way out of the ghetto. Broke, beset by floods, and beatings by his alcoholic father, and with no job opportunities in sight, Elvis is tempted by a life of crime. Thus begins his odyssey into the dangerous underworld of Lagos, guided by his friend Redemption and accompanied by a restless hybrid of voices including The King of Beggars, Sunday, Innocent and Comfort. Ultimately, young Elvis, drenched in reggae and jazz, and besotted with American film heroes and images, must find his way to a GraceLand of his own.

Nuanced, lyrical, and pitch perfect, Abani has created a remarkable story of a son and his father, and an examination of postcolonial Nigeria where the trappings of American culture reign supreme.

"A richly detailed, poignant, and utterly fascinating look into another culture and how it is cross-pollinated by our own. It brings to mind the work of Ha Jin in its power and revelation of the new."--T. Coraghessan Boyle
Praise For GraceLand: A Novel…
"Extraordinary...This book works brilliantly in two ways. As a convincing and un-patronizing record of life in a poor Nigerian slum, and as a frighteningly honest insight into a world skewed by casual violence, it's wonderful...And for all the horrors, there are sweet scenes in Graceland too, and they're a thousand times better for being entirely unsentimental...Lovely." —The New York Times Book Review

"Abani's intensely visual style--and his sense of humor--convert the stuff of hopelessness into the stuff of hope." —San Francisco Chronicle

"To say that this is a Nigerian or African novel is to miss the point. This absolutely beautiful work of fiction is about complex strained political structures, the irony of the West being a measure of civilization, and the tricky business of being a son. Abani's language is beautiful and his story is important." —Percival Everett

"Graceland is a grotesque, painfully hilarious look at the dark underground world of Lagos Nigeria, and it brings back vivid memories of an urban culture seemingly always on the verge of a complete societal breakdown. Chris Abani's riveting novel is an unrelenting focus on blight, squalor, savagery, and violence. It is a superbly written, structurally fascinating work and I found myself captivated by the hilarity of some of the scenes, often as I found myself on the verge of tears. It is a stunning debut by an immensely talented writer." —Quincy Troupe, author of Transcircularity, Miles: The Autobiography and Miles and Me

"Chris Abani's Graceland is a richly detailed, poignant and utterly fascinating look into another culture and how it is cross-pollinated by our own. It brings to mind the work of Ha Jin in its power and revelation of the new." —T.C. Boyle, author of Drop City"
cival Everett
Picador, 9780312425289, 336pp.
Publication Date: January 26, 2005
About the Author
Chris Abani was born in Nigeria. At age sixteen he published his first novel, for which he suffered severe political persecution. He went into exile in 1991, and has since lived in England and the United States. His book Daphne's Lot is a collection of poetry for which he won a 2003 Lannan Literary Fellowship. His book, Kalakuta Republic, is a collection of poetry based on his experience as a political prisoner in Nigeria, and received the PEN USA West Freedom-to-Write Award and the Prince Claus of the Netherlands Award.