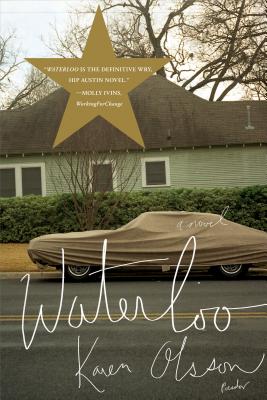 Waterloo (Paperback)
A Novel
Picador, 9780312425593, 320pp.
Publication Date: November 14, 2006
Other Editions of This Title:
Compact Disc (11/1/2005)
MP3 CD (11/1/2005)
Audio Cassette (11/1/2005)
* Individual store prices may vary.
Description
Nick Lasseter is in a slump--as a reporter for the Waterloo Weekly, and in every other part of his life as well. When he grudgingly agrees to write a piece about a rising female Republican legislator, he stumbles onto a political fight in which the good guys and bad guys start to seem interchangeable. And not even the deceased can be relied upon to stick to their stories when Nick gets involved with a political insider. As they search the dim depths of a civic past that's anything but dead and buried, they find that some things never change--things like the moral ambiguity of practical politics and the sad, hilarious cluelessness of young men in love.
Bittersweet and biting, elegiac and sharply observed, Waterloo is a portrait of a generation in search of itself--and a love letter to the slackers, rockers, hustlers, hacks, and hangers-on who populate Austin, Texas--from a formidable new intelligence in American fiction.
About the Author
Karen Olsson is the author of the novels Waterloo and All the Houses. She has written for The New York Times Magazine, Slate, Bookforum, and Texas Monthly, among other publications, and she is also a former editor of the Texas Observer. She graduated from Harvard University with a degree in mathematics and lives in Austin, Texas, with her family.
Praise For Waterloo: A Novel…
"A melancholy comedy of Texas politics [written] with great wit and assurance." —Mark Costello, The New York Times Book Review
"Frank, clever prose." —The Believer
"Pleasantly ambles along like a Patsy Cline ballad. . . . Olsson masterfully incorporates . . . a theme of transience . . . into each story line." —Time Out New York
"Olsson's true achievement: connecting the real world of state politics and raw deals to an imaginary world of human frailty and complexity . . . What makes Waterloo transcendent of its time and place is Olsson's ability to draw out the common humanity between liberal journalist Nick Lasseter and conservative politician Beverley Flintic." —Austin American-Statesman
"An affectionate and gently humorous tribute to . . . Austin . . . Politics and journalism play a major role in the story and are handled with intelligence and insight. . . . This debut has much to recommend it." —Library Journal
"Acid-sweet tale of life, love and politics in slackerville . . . Olsson's dry irony, nuanced observations and enjoyably moody atmosphere build into a sophisticated portrait of her hometown. A debut to be enjoyed by idealists everywhere." —Kirkus Reviews
"Intricate, ambitious . . . Clean, brisk prose." —Publishers Weekly
"Ambling, amiable, and super-smart." —Daily Candy
"Wistfully mischievous . . . A shrewd roman a clef [and] that rare accomplishment, a provincial fiction that finds the universe in a grain of Texas silt . . . A melancholy, jolly take on human imperfection." —San Antonio Current