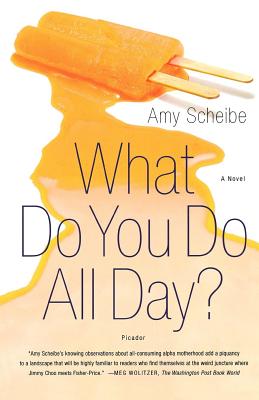 What Do You Do All Day? (Paperback)
A Novel
Picador, 9780312425623, 320pp.
Publication Date: August 22, 2006
* Individual store prices may vary.
Description
Bright, witty, and covered in homemade play-dough, Jennifer Bradley has traded her fabulous job at a New York auction house for the life of a stay-at-home mom. No one said it would be easy. Between the alpha moms all around her and a backstabbing mother-in-law, there's little hope that maternal instinct alone will save her. And perhaps it was less than helpful of her husband, Thom, to suddenly take off on business to Singapore for the next who-knows-how-long, leaving behind the faint scent of an extramarital affair. And this may not be the best time for Jennifer's old flame, a former child star, to show up on her doorstep, looking to patch things up.
What Do You Do All Day? is a sparkling story of love, lust, and the joys of modern motherhood.
About the Author
AMY SCHEIBE is the author of What Do You Do All Day? She has written for Dame Magazine, Seattle Weekly, The Forward, The Jewish Quarterly, and other publications. Born in Minnesota and reared in North Dakota, she now lives in the Catskill mountains with her husband and two children.
Praise For What Do You Do All Day?: A Novel…
"Amy Scheibe's knowing observations about all-consuming alpha motherhood add a piquancy to a landscape that will be highly familiar to readers who find themselves at the weird juncture where Jimmy Choo meets Fisher-Price." —Meg Wolitzer, The Washington Post Book World
"Scheibe wins us over with honest--and funny--observations of parenting minutiae." —Entertainment Weekly
"Sharp, smart, and true. Hear one of the few fiercely independent and provocative voices in contemporary women's fiction tell you what it's really like on the inside." —Laura Zigman, author of Animal Husbandry
"A fun read, jam-packed with witty barbs." —Emma McLaughlin and Nicola Kraus, authors of The Nanny Diaries
"Scheibe's hilarious debut is rife with wry observations. . . . With a light touch and a sparkling plot, she takes on the conundrums--and beauty--of motherhood for driven, yet nurturing women." —Publishers Weekly