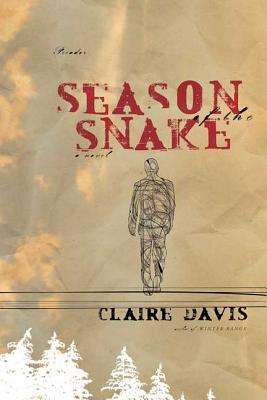 Season of the Snake (Paperback)
A Novel
Picador, 9780312425647, 288pp.
Publication Date: February 21, 2006
Other Editions of This Title:
Hardcover (2/24/2005)
Compact Disc (3/1/2005)
MP3 CD (3/1/2005)
Compact Disc (3/1/2005)
* Individual store prices may vary.
Description
One of the Best Books for Reading Groups, Kirkus Reviews
Years after the tragic death of her first husband, Nance Able remarries and begins a new life in the West with Ned, a school principal whose quiet charm lulls her to contentment. A scientist tracking rattlesnakes in the wilderness of Hells Canyon, Idaho, Nance courts natural dangers, believing that conquering such risks will protect her from further grief. But at home, she is unaware that her husband's secret proclivities are emerging. When Nance's younger, errant sister Meredith moves to town, Ned can no longer suppress the terrifying mysteries of his past, and the sisters must find together the strength to survive his love.
About the Author
Claire Davis is the author of Season of the Snake and Winter Range, which won the Pacific Northwest Booksellers Award for Best First Novel and the Mountains and Plains Booksellers Award for Best Novel. Her stories have appeared in The Southern Review, The Gettysburg Review, and Ploughshares, been read on National Public Radio's Selected Shorts program, and been selected for the Best American Short Stories and Pushcart Price anthologies. She lives in Lewiston, Idaho.
Praise For Season of the Snake: A Novel…
"Season of the Snake provides the elusive double whammy of an action-packed plot with literary value. . . . A gripping, gritty novel stuffed with piercing insights into the human condition." —The Oregonian (Portland)
"A suspenseful and heartbreaking meditation on the nature of fate, family, sex, death, and our individual misuses of love. Truly a thrilling novel." —Mark Spragg, author of An Unfinished Life
"Davis not only shows that she can beat the so-called sophomore jinx, but also branch out in new directions without jeopardizing her craft. . . . Season of the Snake is an impressive, if disturbing, work that promises more good things to come from a talented author." —The Denver Post
"A creepy page-turner . . . I read it almost straight through; there's no denying its lurid grip on the imagination." —The Seattle Times
"Another powerful and suspenseful tale . . . Davis isn't afraid to provoke some compelling questions about violence against women. . . . A chilling peek into the snake-charmer's pit." —Kirkus Reviews
"Like a coiled diamondback, Claire Davis's Season of the Snake grabs your attention and doesn't let go. The only time I put it down was to get up and lock the doors." —Judy Blunt, author of Breaking Clean
"Vivid scenery and a tangible impression of ominous menace will appeal to fans of literary psychological suspense." —Library Journal
"Claire Davis's new novel is a psychological thriller written with an almost Proustian sense of detail. It would not surprise me if Season of the Snake turns out to be this year's Mystic River, that rare book that manages to be both a huge literary and popular success." —Steve Yarbrough, author of Prisoners of War
"Davis develops a carefully drawn accrual of texture and detail. . . .Compelling writing on the powerful bonds that constitute family." —Booklist
"In Claire Davis's chilling new novel, predators wear the colors of their surroundings and only the undeceived survive. A tough, smart story given in uncommonly vibrant and muscular language. Season of the Snake reconfirms her place in the first rank of voices from the American West." —David Long, author of The Falling Boy