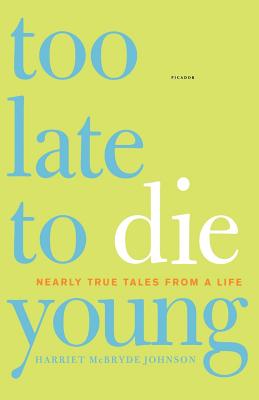 Too Late to Die Young
Nearly True Tales from a Life
Paperback

* Individual store prices may vary.
Description
A Washington Post Book World Rave

Harriet McBryde Johnson's witty and highly unconventional memoir opens with a lyrical meditation on death and ends with a bold and unsentimental sermon on pleasure. Born with a congenital neuromuscular disease, Johnson has never been able to walk, dress, or bathe without assistance. With assistance, she passionately celebrates her life's richness and pleasures and pursues a formidable career as an attorney and activist. Whether rolling on the streets of Havana, on the floor of the Democratic National Convention in Chicago, or in an auditorium at Princeton debating philosopher Peter Singer, Harriet McBryde Johnson defies every preconception about people with disabilities, and shows how a life, be it long or short, is a treasure of infinite value.
Praise For Too Late to Die Young: Nearly True Tales from a Life…
"There is a small but discrete literature by writers who have experienced personal or family tragedy: William Styron on his depression, Reynolds Price on his paraplegia, Kenzaburo Oe on his brain-damaged son. . . . To read these stories can deepen everyone's humanity. Too Late to Die Young can proudly take its place among these other important books." —The Washington Post

"A remarkable portrait of a woman who is proof that the disabled can live lives filled with purpose and pleasure." —Kirkus Reviews (starred review)

"Masterfully pace and structured . . . Too Late To Die Young serves as both a memoir and a kind of revolutionary act itself." —Mary Johnson, Ragged Edge Online

"Readers inclined to feel sorry for people with disabilities . . . [should] read Johnson's feisty book instead." —Publishers Weekly

"Johnson's rich, descriptive writing, humor, and Southern cadence make the book entertaining, thought-provoking, and meaningful." —The Post and Courier (Charleston, South Carolina)

"She insists on being her own complicated person, a Southern lady, for instance, as well as a socialist, an atheist, a lawyer, and a born storyteller with a wicked sense of humor. . . . But her writing is so vibrant, so interesting, and so funny that you can't help but feel as if you're in her world, sitting beside her and hearing her story for yourself." —The Tampa Tribune

"This lady pulls no punches. An entertaining look at an activist who insists on living life her way, disability or no; strongly recommended." —Library Journal

"A wonderful mix: a keen mind, exuberance, activist politics, along with a special brand of Southern women's wit." —Adrienne Rich
Picador, 9780312425715, 272pp.
Publication Date: February 21, 2006
About the Author
Harriet McBryde Johnson has been a lawyer in Charleston, South Carolina, since 1985. Her solo practice emphasizes benefits and civil rights claims for poor and working people with disabilities. She is the author of Accidents of Nature and Too Late to Die Young.