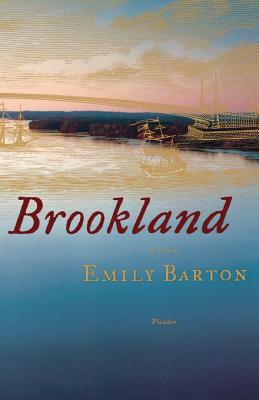 Brookland
A Novel
Paperback

* Individual store prices may vary.
Other Editions of This Title:
Digital Audiobook (4/7/2011)
Description
A New York Times Book Review Notable Book of the Year
A Los Angeles Times Book Review Favorite Book of the Year
Since her girlhood, Prudence Winship has gazed across the tidal straits from her home in Brooklyn to the city of Manhattan and yearned to bridge the distance. Now, firmly established as the owner of an enormously successful gin distillery she inherited from her father, she can begin to realize her dream.
Set in eighteenth-century Brooklyn, this is the beautifully written story of a woman with a vision: a gargantuan construction of timber and masonry to span the East River. With the help of her sisters--high-spirited Tem and silent, uncanny Pearl--Prue fires the imaginations of the people of Brooklyn and New York by promising them easy passage between their two worlds.
Brookland confirms Emily Barton's reputation as one of the finest writers of her generation, whose work is "blessedly post-ironic, engaging and heartfelt" (Thomas Pynchon).
Praise For Brookland: A Novel…
"Beautiful . . . [A] profound treatment of the spiritual ills born of the Enlightenment." —Joan Acocella, The New Yorker
"[Brookland] reaffirms the unswerving adage of the novel reader: Describe a world well enough and I am its member. This is the voice of a great novelist." —David Thomson, The New York Observer
"Barton has re-created the borough's brief pastoral moment in such lavish, precise detail that I can't think of a single recent historical novel that compares. . . . A rare delight." —Jennifer Reese, Entertainment Weekly (Must Reads selection)
"Splendid . . . [A] carefully researched and vividly imagined reconstruction of a vanished world." —Christopher Benfey, The New York Review of Books
"Engrossing . . . Emily Barton has taken an elegant way with questions of thought-provoking substance and has made a very fine and satisfying novel." —Tim Rutten, Los Angeles Times
"A work of such grandeur that it evokes Tolstoy's genius for scope and story." —Julie Brickman, San Diego Union-Tribune
"Marvelous . . . So much modern fiction thinks small, feels small. Emily Barton will never be accused of either. . . . Brookland turns out to be a story not just of risk, daring, and ambition but of the courage to fail--and the courage to live on after failing." —Christopher Corbett, The New York Times Book Review
"If honoring archaic diction, ancient gin-distilling processes, and eighteenth-century bridge-building techniques while composing a compelling narrative sounds ambitious, it is. But Barton is certainly up to the task. . . . In the end, Brookland is a wonderfully realized novel, one with atmosphere and ideas to match." —Kelly McMasters, Time Out New York
"In seamless, period-rich prose, Barton relates how a young woman gambles everything to construct her obsession: a doomed wooden behemoth spanning the East River. . . . Captivating." —Florence Kane, Vogue
"A poignant tale of sisters who run a gin distillery in late eighteenth-century Brooklyn . . . Barton fashions an enchanting saga for her sophomore effort; it is a major New York book of the season." —Publishers Weekly (starred review)
"Readers used to four-page chapters and breathless narration should take a deep breath, slow down, and smell the lavender and anise. . . . With her poignant novel, Barton turns imagination and luminous prose into precision instruments that measure how cracks in a foundation can undo the most solid-seeming of structures." —Yvonne Zipp, The Christian Science Monitor
"No historical novel in recent memory has amassed such an imposing wealth of rich period detail, and few novels of any genre extend an increasingly absorbing story to such a powerful, sorrowful conclusion. A brilliant book that should be a strong Pulitzer Prize contender." —Kirkus Reviews (starred review)
"Barton's novel weaves an engaging narrative of three sisters bound by unconditional love, their family's gin mill--and simmering resentment." —Sarah Childress, Newsweek
"This is a fictional book about dreams, drive, and tragedy, but it also re-creates, with vivid description, the real world of the past. For those of us who wonder what life was like so long ago, the rewards are rich indeed." —The Arizona Republic
"Barton thinks deeply about her subjects; her imagination has unusually wide bounds; the austerity of her voice at once offers and withholds revelation." —The News & Observer
"Brookland is a marvelously beguiling novel. From first elegant page to last, Emily Barton has rendered an enticing story, one both moving and entertaining at every level. It's a dazzling and thrilling read, truly an exemplar of modern literature." —Katharine Weber, author of Triangle
Picador, 9780312425807, 496pp.
Publication Date: February 20, 2007
About the Author
Emily Barton's fiction has appeared in Story, American Short Fiction, and Conjunctions. Her first novel, The Testament of Yves Gundron, called "blessedly post-ironic, engaging, and heartfelt" by Thomas Pynchon, won the Bard Fiction Prize and was named a New York Times Notable Book of the Year. She is the recipient of a 2006 artist's grant from the National Endowment for the Arts and a 2006 fellowship from the Guggenheim Foundation. She lives in Brooklyn, New York.