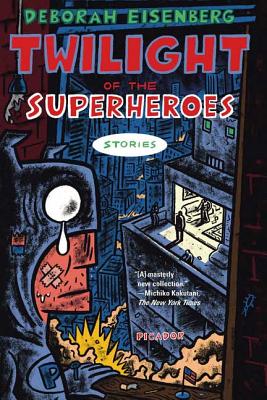 Twilight of the Superheroes (Paperback)
Stories
Picador, 9780312425937, 240pp.
Publication Date: January 23, 2007
Other Editions of This Title:
Hardcover (1/24/2006)
* Individual store prices may vary.
Description
Deborah Eisenberg is nearly unmatched in her mastery of the short-story form. Now, in her newest collection, she demonstrates once again her virtuosic abilities in precisely distilled, perfectly shaped studies of human connection and disconnection. From a group of friends whose luck in acquiring a luxurious Manhattan sublet turns to disaster as their balcony becomes a front-row seat to the catastrophe of 9/11, to the too painful love of a brother for his schizophrenic sister, Eisenberg brilliantly "illustrates the lives of people rubbed raw by what the fates have sent them" (Vanity Fair).
About the Author
Deborah Eisenberg is the author of four collections of stories, including Transactions in a Foreign Currency, Under the 82nd Airborne, All Around Atlantis, and Twilight of the Superheroes. She is the recipient of a MacArthur Genius Grant, a Whiting Writers' Award, and a Guggenheim Fellowship. She has taught at the University of Virginia and Columbia University.
Praise For Twilight of the Superheroes: Stories…
"There aren't many contemporary novels as shudderingly intimate and mordantly funny as Eisenberg's best stories." —Ben Marcus, The New York Times Book Review
"A masterly collection . . . Instead of forcing her characters' stories into neat, arbitrary, preordained shapes, Deborah Eisenberg allows them to grow organically into oddly shaped, asymmetrical narratives--narratives that possess all the surprising twists and dismaying turns of real life." —Michiko Kakutani, The New York Times
"Eisenberg's filament-thin weavings of desire, obligation, and missed opportunities remind one strongly of Henry James. . . . Eisenberg is a master of condensation and reconstruction, making beautiful murals from broken glass." —O, The Oprah Magazine
"Ambitious and resonant . . . Whether the subjects be lovely young girls grown old or waning superpowers, Eisenberg makes masterful short work out of marking their decline and fall." —NPR's Fresh Air
"The deepest pleasure in Ms. Eisenberg's stories is their vertiginous unpredictability, like obstacle courses the author jumps and rolls and shimmies through, clasping the reader to her like an infant. . . . These are fearless, fierce, light-bearing stories, offered in defense of what still matters." —The New York Observer
"Dazzling . . . Her distinctive voice and mastery of the short story elevate her to the ranks of kindred spirits like Gina Berriault, Alice Munro, and even Chekhov." —Time Out New York
"With every story in this superb new collection, Deborah Eisenberg, one of America's finest writers, offers new ways of seeing and feeling, as if something were being perfected at the core. The half dozen long stories here put her light years ahead of most story writers." —Alan Cheuse, San Francisco Chronicle
"Outstanding . . . Eisenberg offers enough insight and intelligent observation to amply justify her reputation as the American Alice Munro." —Yvonne Zipp, Christian Science Monitor.
"Like other current masters of the short story--Joy Williams, Lycia Davis, Ben Marcus--Eisenberg works her own fertile ground so faithfully and assiduously that she brooks no comparison. She simply writes like no one else." —Lisa Shea, Elle
"He stories are so skillfully crafted that they seem composed more of shapes and textures than of printed words. Reading her makes you wish, as you study the family in front of you in the grocery line, that you could see their thoughts rendered as one of Eisenberg's stunning inner monologues" —Judith Lewis, Los Angles Times