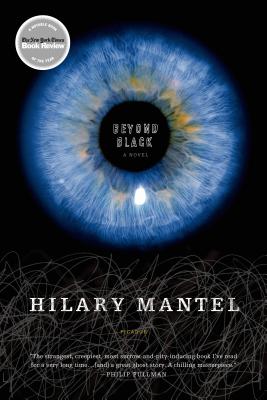 Beyond Black (Paperback)
A Novel
Picador, 9780312426057, 432pp.
Publication Date: April 18, 2006
* Individual store prices may vary.
Description
A New York Times Notable Book of the Year
Colette and Alison are unlikely cohorts: one a shy, drab beanpole of an assistant, the other a charismatic, corpulent psychic whose connection to the spiritual world torments her. When they meet at a fair, Alison invites Colette at once to join her on the road as her personal assistant and companion. Troubles spiral out of control when the pair moves to a suburban wasteland in what was once the English countryside. It is not long before the place beyond black threatens to uproot their lives forever. This is Hilary Mantel at her finest--insightful, darkly comic, unorthodox, and thrilling to read.
About the Author
Hilary Mantel is the two-time winner of the Man Booker Prize for her best-selling novels, Wolf Hall, and its sequel, Bring Up the Bodies—an unprecedented achievement. The Royal Shakespeare Company adapted Wolf Hall and Bring Up the Bodies for the stage to colossal critical acclaim, and the BBC/Masterpiece six-part adaption of the novels aired in 2015.
The author of fourteen books, she is currently at work on the third installment of the Thomas Cromwell Trilogy.
Praise For Beyond Black: A Novel…
"The strangest, creepiest, most sorrow-and-pity-inducing book I've read for a very long time . . . [and] a great ghost story. A chilling masterpiece." —Philip Pullman
"A terrible and swirling horror-comedy about a very fat medium on the perimeter of the M25, haunted by mean and nasty spirits, veering between damnation and the trivial." —A. S. Byatt
"Funny and harrowing. . . A great comic novel. Hilary Mantel's humor, like Flannery O'Connor's, is so far beyond black it becomes a kind of light." —The New York Times Book Review
"Beautifully written . . . Strange, funny, and affecting . . . Mantel is . . . the possessor of a peerless prose style." —John Banville
"Spooky, smart, and deep." —Claire Dederer, New York magazine
"[One of] my favourite [books] of the year . . . More people really need to get with the concept that Mantel is one of the best writers in England." —Zadie Smith
"Her finest [novel] . . . Mantel's writing is so exact and brilliant that, in itself, it seems an act of survival, even redemption." —The New Yorker
"Original and deeply dark . . . New and compelling . . . With Beyond Black [Mantel] shows us how fiction can lift us into the extraordinary." —The Washington Post Book World
"Grimly seductive [work from] a writer of dark extremities. [Mantel] performs as if from the depths of a well, her prolonged bleakness pierced by splinters of beauty and treacherous wit. . . . Imperceptibly, artfully, Mantel has elevated her material monsters into metaphysical monsters." —The Boston Globe
"Inventive, delightful, subversive [and] dead serious . . . Hilary Mantel has taken . . . those moments between sleep and waking, when we hardly know who we are, or why, and turned them into a novel that makes the unbelievable believable. . . . This is a book out of the unconscious, where the best novels come from." —Faye Weldon, The Guardian (U.K.)