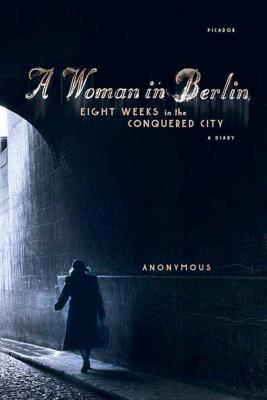 A Woman in Berlin
Eight Weeks in the Conquered City: A Diary
Paperback

* Individual store prices may vary.
Other Editions of This Title:
Digital Audiobook (5/15/2017)
CD-Audio (5/16/2017)
Description
A New York Times Book Review Editors' Choice

For eight weeks in 1945, as Berlin fell to the Russian army, a young woman kept a daily record of life in her apartment building and among its residents. "With bald honesty and brutal lyricism" (Elle), the anonymous author depicts her fellow Berliners in all their humanity, as well as their cravenness, corrupted first by hunger and then by the Russians. "Spare and unpredictable, minutely observed and utterly free of self-pity" (The Plain Dealer, Cleveland), A Woman in Berlin tells of the complex relationship between civilians and an occupying army and the shameful indignities to which women in a conquered city are always subject--the mass rape suffered by all, regardless of age or infirmity.

A Woman in Berlin stands as "one of the essential books for understanding war and life" (A. S. Byatt, author of Possession).
Praise For A Woman in Berlin: Eight Weeks in the Conquered City: A Diary…
"A devastating book. It is matter-of-fact, makes no attempt to score political points, does not attempt to solicit sympathy for its protagonist, and yet is among the most chilling indictments of war I have ever read. Everybody, in particular every woman, ought to read it." —Arundhati Roy, Booker Prize-winning author of The God of Small Things

"A tract essential for our often morally fuzzy times . . . It is destined to be a classic." —San Francisco Chronicle

"Let Anonymous stand witness as she wished to: as an undistorted voice for all women in war and its aftermath, whatever their names or nation or ethnicity. Anywhere." —Los Angeles Times

"An astonishing record of survival . . . the voice of Anonymous emerges as both shrewd and funny . . . a fresh contribution to the literature of war." —Entertainment Weekly (grade: A)

"A richly detailed, clear-eyed account of the effects of war and enemy occupation on a civilian population . . . She has written, in short, a work of literature, rich in character and perception." —Joseph Kanon, The New York Times Book Review

"Her journal earns a particular place in the archives of recollection. This is because it neither condemns nor forgives: not her countrymen, not her occupiers, and not, remarkably, herself. . . . Stands gritty and obdurate among a swirl of revisionist currents that variously have asserted and disputed the inherent nature of Germans' national guilt . . .To put it briefly, Anonymous writes a merciless account of what individuals can be faced with when all material and social props collapse." —The Boston Globe

"A riveting account of a military atrocity . . . The author doesn't try to explain or moralize the horror. She simply records it as perhaps no one else has, in all of its devastating essence." —The New York Observer

"Unflinchingly honest . . . Its frank documentation of German suffering--the hunger and uncertainty as well as the widespread rape--illuminates a subject whose worldwide taboo is just beginning to subside." —The Village Voice

"A brilliant and powerful work." —Newsday

"What makes the book an essential document is its frank and unself-conscious record of the physical and moral devastation that accompanied the war. . . . The diarist's emotional register remains unfailingly calm. Her dispassionate chronicle of the disasters of war suggests a kind of stoic heroism. . . . Remarkable." —Salon.com

"A stunning account of a German woman's battle to survive repeated rape at the hands of the victors among the ruins of Berlin . . . While leaders plot their dreams of glory and victory, the lives of ordinary people--on all sides--are trampled and destroyed. A most salutary work." —David Hare, The Guardian (U.K.)

"The author has a fierce, uncompromising voice, and her book should become a classic of war literature." —Publishers Weekly

"Books can transform us. So very few do. A Woman in Berlin is one that can." —Dayton Daily News

"A work of great power . . . The author is a keen observer of the ironies, even the absurdities, of a collapsing society. . . . A devastating and rare glimpse at ordinary people who struggle to survive." —Booklist

"With the passage of time, Anonymous's perspective--and the extraordinary way she kept her dignity and moral sense alive in an inferno--have made her diary a war classic." —Maclean's (Toronto)

"Marvelous . . . As it is a human instinct to survive, this book, which could have been horrifying, is instead exhilarating: a rare tribute to the human spirit." —Daily Mail (U.K.)

"Coolly written, tearingly honest . . . This is a classic not only of war literature but also of writing at the very extreme of human suffering." —The Daily Telegraph (London)
Picador, 9780312426118, 288pp.
Publication Date: July 11, 2006
About the Author
The anonymous author of A Woman in Berlin was a young woman at the time of the fall of Berlin. She was a journalist and editor during and after the war.

Philip Boehm has translated more than thirty novels and plays by German and Polish writers, including Herta Müller, Franz Kafka, and Hanna Krall. For these translations he has received numerous awards, including NEA and Guggenheim fellowships and most recently the Helen and Kurt Wolff Translator's Prize. He also works as a theater director and playwright.