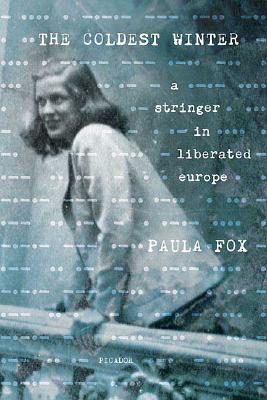 The Coldest Winter (Paperback)
A Stringer in Liberated Europe
Picador, 9780312426248, 144pp.
Publication Date: October 17, 2006
Other Editions of This Title:
Hardcover (10/13/2005)
* Individual store prices may vary.
Description
A New York Times Book Review Editors' Choice

A San Francisco Chronicle Best Book of the Year

A Washington Post Book World Critic's Choice of the Year

In this elegant and affecting follow-up to her extraordinary memoir, Borrowed Finery, a young writer travels through a Europe ravaged by the Second World War.
About the Author
Paula Fox is the author of a previous memoir, "Borrowed Finery, " which was a finalist for the National Book Critics Circle Award and won the PEN/Martha Albrand Award, as well as six novels, including "Desperate Characters, The Widow's Children, " and "Poor George." She is also a Newbery Award-winning children's book author. She lives in Brooklyn, New York.
Praise For The Coldest Winter: A Stringer in Liberated Europe…
"An intensely felt memoir of a young woman wading through the bright shards of 1946 Europe . . . Both deeply personal and historically relevant, The Coldest Winter is a marvel of concision and intensity."--O, The Oprah Magazine

"In this lovely wisp of a book . . . Fox zeroes in on a limited number of evocative details and anecdotes . . . [and] offers madeleines that stir memories in us that aren't even ours."--The New York Times Book Review

"Lean, exquisitely written."--Entertainment Weekly

"One of the many virtues of this uncommonly fine book is that it brings [post-World War II Europe] almost palpably back to life, yet without an ounce of sensationalism or sentimentality. . . . Beautifully written but never showily so."--The Washington Post

"As always, Fox writes with spare lyricism and emotional force, spinning a fever dream so powerful that her experiences feel as though they're our own."--Vogue

"In thoughts as stunning as camera flashes, Fox knits her past together. She presents startling images and unforgettable stories. . . . Chekhov's stories come to mind, with their ethical dilemmas, their human ugliness and pathos, their unquestionable beauty and compassion. The Coldest Winter recalls a year or so in Fox's life, but even more it asks why her experience, or anyone's, matters."--Los Angeles Times Book Review

"Fresh, exceptionally fine . . . Contains a wisdom and maturity that should be lost on no one."--San Francisco Chronicle "So vividly detailed that it seems to contain a universe . . . Fox's gift of recall is a boon for the reader, but it's her piercing attention to details picked out of the surrounding turmoil that lends Winter its visionary gifts. Scenes emerge before our eyes like shadowy images from a European film noir. . . . Fox's writing has remarkable precision and restraint, even when describing the most painful, disturbing circumstances."--Time Out New York

"Summons a lost era without indulging in nostalgia . . . What lingers is the taste of being twenty-three-years-old and at large in a broken but dazzling world."--The Village Voice

"There is an unnerving current of tension in Fox's writing . . . an eerie power to her prose."--The Star-Ledger (Newark)

"Elegant . . . Her simultaneously spare and lyrical sentences usher in a world that is tenuous, foreboding, tender, comic--life itself, in other words, as described by a trustworthy, soulful, unegocentric observer."--Bookforum

"In her acclaimed memoir Borrowed Finery (2001), Fox wrote with quiet power about her traumatic childhood. Now she writes about huge political upheaval, and once again she brings it close with small, intimate details. . . . You read the simple words slowly, and they haunt you."--Booklist

"The picture Fox paints of postwar Europe is both profoundly beautiful and sad, and her memoir is affecting, leaving one wishing she had stayed there longer."--Publishers Weekly

"Resonant . . . With her signature concision and understatement, Fox, now in her eighties, reassesses her past and extracts indelible insights. . . . Fox's minimalist prose evokes for the reader something other than ourselves--and the effect is deeply moving."--Newsday

"A travel diary written in hindsight, this slender, elegant memoir is both hypnotic and sharply lucid. . . . Fox's vision encompasses history and humanity, thereby taking in so much more than the self."--Bust magazine
or
Not Currently Available for Direct Purchase