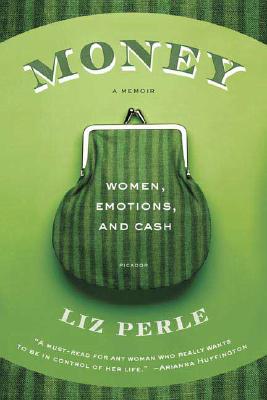 Money, A Memoir: Women, Emotions, and Cash (Paperback)
Women, Emotions, and Cash
Picador, 9780312426279, 288pp.
Publication Date: December 12, 2006
* Individual store prices may vary.
or
Not Currently Available for Direct Purchase
Description
Women learn the lesson early: Coveting money is greedy. Hustling for it is unladylike. Talking about it is crass.

And so they develop a quiet contract: I'll do what it takes to get money, but I don't want to have to think about it. Maybe an extravagant purchase gets chalked up as a necessity. A few twenties disappear from the husband's wallet while he's in the shower. A raise goes unrequested. A looming debt gets pushed aside, just for the moment . . .

In Money, Liz Perle adds her own story of money and denial to the anecdotes and insights of psychologists, researchers, and more than two hundred ordinary women. The result is a bestselling book that "will force both men and women to ask hard and important questions about love, marriage, and money" (San Francisco magazine).
About the Author
Liz Perle, who worked in book publishing as an editor and publisher for more than twenty years, recently joined the nonprofit world where she is editor-in-chief of "Common Sense Media, " the nation's leading nonpartisan organization designed to help families make the best media choices for their children. She is also the author of "When Work Doesn't Work Anymore." Perle lives in San Francisco with her husband and two children.
Praise For Money, A Memoir: Women, Emotions, and Cash…
"A must-read for any woman who really wants to be in control of her life."--Arianna Huffington

"Liz Perle uncovers a wealth of emotions attached to money and a sisterhood of denial about finances. . . . Reading her book . . . will make you realize you're not alone."--People

"[A] welcome cautionary tale for the modern woman. . . . Her thought-provoking tract, bolstered by extensive interviews and research, urges women to forget Prince Charming, stop fantasizing about that six-burner Viking stove, and start funding their IRAs."--Entertainment Weekly (Must List selection)

"Ms. Perle has hit a nerve with her book. . . . If you are trying to step off the precipice of financial decline, reading this book is a good place to start."--The New York Sun

"Tackles some intriguing and important questions about a subject that too many nice girls were raised never to talk about at all."--Fortune

"A smart, compelling analysis."--The New York Times "Liz Perle is not a traditional financial writer in the school of Suze Orman but rather a keen psychological observer of her own guilt, magical thinking, and emotional dodges when it comes to money."--Time

"Liz Perle confesses to erratic fiscal behavior in Money: A Memoir, bravely exposing her financial foibles and hang-ups. . . . Kudos to her for having the courage to air her dirty financial laundry so other women can benefit."--USA Today

"At once more contentious and more ambitious than the cynical view would have it . . . Perle has good cause to press on, and good instincts about where to press. . . . She backs herself up with psychiatrists and sociologists . . . but she also does the uneasy work, however anecdotally, of unpacking identity and security as functions of dependence and extrapolating the money-influenced issues of power and trust and respect that hang many women, and many men, up. Perle's best material is the really personal, presumably unspeakable stuff. . . . Driven to expose the most shameful, presumably unmentionable aspects of our financial disappointments, with the . . . conviction that frank discussion is essential for progressing beyond them."--San Francisco Chronicle

"Thought-provoking."--Chicago Sun-Times

"Illuminating . . . With candor and self-deprecating humor, she offers herself as Exhibit A. . . . The book contains a message that needs to be heard and heeded, not only to benefit women but also to give their offspring a better financial example."--The Christian Science Monitor

"The strength of the book lies in Perle's willingness to 'be the first fool,' to lay out her own insecurities and missteps with total candor."--Los Angeles Times

"Intriguing . . . Compelling."--The Washington Post Book World

"A wake-up call for the retail-inclined."--Fort Worth Star-Telegram

"Money, A Memoir is written very much on the model of Naomi Wolf or Peggy Orenstein . . . Perle is so friendly sounding and full of examples that it's hard not to start thinking about your own financial situation as you read. More personal than a self-help book, more utilitarian than a memoir, Perle's book might instead be thought of as a call to arms. Time to get our financial houses in order."--Raleigh News & Observer

"Money, A Memoir is a page-turner."--Bloomberg News

"[A] remarkable sociological study-cum-memoir . . . Perle's book raises more questions than it answers, which is part of its allure--it'll surely have readers thinking twice before they log on to Bloomingdales.com after a bad day at work."--Publishers Weekly (starred review)

"Eye-opening . . . Perle's interviews with psychologists and financial experts are compelling. Her phrase 'emotional middle class'--to describe what she considers the country's now-mythic middle class--may enter the lexicon."--The Buffalo News

"Fascinating."--San Francisco magazine

"This wonderful book shines a spotlight on the ambivalence women have about all things financial--we love nice things but feel guilty if we have them and resentful if we don't. I'm making it required reading for all my clients--men and women!"--Chellie Campbell, author of The Wealthy Spirit and From Zero to Zillionaire

"How did Liz Perle get so far inside women's heads? This is much more than a memoir. It's one of the most insightful and important books about women's behavior I've ever read."--Hope Edelman, author of Motherless Daughters

"If you want to understand many women's complex and contradictory attitudes about money, take out your wallet and buy Liz Perle's very personal and very honest look at the subject in Money, A Memoir."--Myrna Blyth, former editor-in-chief of Ladies Home Journal and author of Spin Sisters

"A smart, funny, insightful book on women and money. Liz Perle writes with love and enthusiasm about this essential topic."--Judith Orloff M.D., author of Positive Energy

"Change is in the air. Someone finally has the courage to be straight about women's emotional struggles with money. Every woman who reads this touching, smart, and true book will come away with more insight into one of the most important relationships in her life--the one between her and her pocketbook."--Debbie Ford, author of The Dark Side of the Light Chasers and The Best Year of Your Life
Advertisement