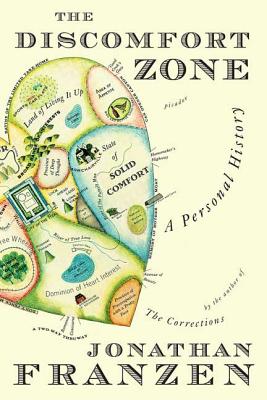 The Discomfort Zone (Paperback)
A Personal History
Picador, 9780312426408, 208pp.
Publication Date: August 21, 2007
Other Editions of This Title:
Digital Audiobook (8/27/2006)
CD-Audio (8/28/2006)
Hardcover (9/5/2006)
Pre-Recorded Audio Player (9/1/2008)
Pre-Recorded Audio Player (9/1/2008)
* Individual store prices may vary.
Description
A New York Times Notable Book of the Year
The Discomfort Zone is Jonathan Franzen's tale of growing up, squirming in his own über-sensitive skin, from a "small and fundamentally ridiculous person," into an adult with strong inconvenient passions. Whether he's writing about the explosive dynamics of a Christian youth fellowship in the 1970s, the effects of Kafka's fiction on his protracted quest to lose his virginity, or the web of connections between bird watching, his all-consuming marriage, and the problem of global warming, Franzen is always feelingly engaged with the world we live in now. The Discomfort Zone is a wise, funny, and gorgeously written self-portrait by one of America's finest writers.
About the Author
Jonathan Franzen is the author of Purity, The Corrections, Freedom, among other novels, and five works of nonfiction and translation, including Farther Away and The Kraus Project, all published by FSG. He is a member of the American Academy of Arts and Letters, the German Akademie der Künste, and the French Ordre des Arts et des Lettres.
Praise For The Discomfort Zone: A Personal History…
"Lovely, lyrical, and precise . . . What The Discomfort Zone resembles, in fact, is an old-fashioned diorama in a museum, displaying the airborne author at each stage of this evolution." —James Marcus, Los Angeles Times
"Funny, masterfully composed . . . For those eagerly awaiting his Corrections follow-up, this will help get you through the night." —Gregory Kirschling, Entertainment Weekly
"Jonathan Franzen's contribution to the genre is so expertly shaped . . . so genuinely, organically thought-provoking, that I wish I could yank it off the shelf where it will inevitably sit with the autobiographical writing of other hip authors." —Adam Begley, The New York Observer
"If it were possible to calculate the frequency of mots justes in a piece of prose, Franzen's ranking would be through the roof." —Lev Grossman, Time
"At once elegiac and unsentimental, mournful and joyful. . . . The most intimate glimpse into the author's interior life." —Dan Cryer, The Boston Globe
"The sub subtext of these essays--that Franzen is Franzen, a flat-out brilliant writer and wickedly incisive observer--strips away much of the self-effacement that coats the surface." —Arthur Salm, The San Diego Union-Tribune
"A brilliantly talented writer, Franzen is more aware than most Americans of the ironies of individuality and citizenship. There are many moments here that bring together the individual and group experience of being American." —Michael Sims, BookPage
"With comic verve, Franzen lays out his neuroses and his gullibility to the cultural moment he inhabited. He nails the essence of adolescence itself." —Michael Upchurch, The Seattle Times
"For those who admire the razor-sharp jabs Franzen akes at himself and anyone else standing too close, The Discomfort Zone is both a delicious read and a clever showcase for Franzen's talents." —Marjorie Kehe, The Christian Science Monitor
"Quirky, funny, poignant, self-deprecating, and ultimately wise." —Kirkus Reviews
"Franzen has a talent for seamless transitions and for weaving together multiple lines of thought. . . . About as good a summary as I've read of the times we live in." —Bob Minzesheimer, USA Today