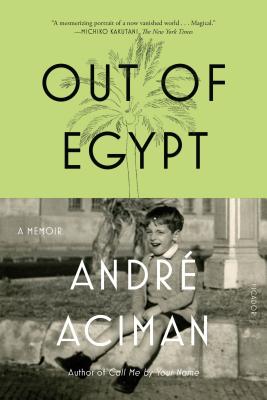 Out of Egypt
A Memoir
Paperback

* Individual store prices may vary.
Description
This richly colored memoir chronicles the exploits of a flamboyant Jewish family, from its bold arrival in cosmopolitan Alexandria to its defeated exodus three generations later. In elegant and witty prose, André Aciman introduces us to the marvelous eccentrics who shaped his life--Uncle Vili, the strutting daredevil, soldier, salesman, and spy; the two grandmothers, the Princess and the Saint, who gossip in six languages; Aunt Flora, the German refugee who warns that Jews lose everything "at least twice in their lives." And through it all, we come to know a boy who, even as he longs for a wider world, does not want to be led, forever, out of Egypt.
Praise For Out of Egypt: A Memoir…
"It is Mr. Aciman's great achievement that he has re-created a world gone forever now, and given us an ironical and affectionate portrait of those who were exiled from it." —The New York Times Book Review
"Aciman may have gone out of Egypt but, as this evocative and imaginative book makes plain, he has never left it, nor it him." —The Washington Post
"With beguiling simplicity, Aciman recalls the life of Alexandria as [his family] knew it, and the seductiveness of that beautiful, polyglot city permeates his book." —The New Yorker
"Beautifully remembered and even more beautifully written." —Los Angeles Times Book Review
"The past recaptured in [Aciman's] elegant memoir is full of cucumber lotion and Schubert melodies, Parmesan cheese and the chatter of backgammon chips--all the smells and sounds of Alexandria that he knew before [leaving]." —The New Republic
"To find Alexandria in these pages, all rosy and clear-eyed from the tonic of Aciman's telling, is the greatest imaginable gift." —James Merrill
"An extraordinary memoir of an eccentric family, a fascinating milieu, and a complex cosmopolitan culture. This beautifully written book combines the sensuousness of Lawrence Durrell, the magic of Garcia Marquez, and the realism of intimate observation. A rich portrait of a surprising and now-vanished world." —Eva Hoffman, author of Lost in Translation
Picador, 9780312426552, 352pp.
Publication Date: January 23, 2007
About the Author
André Aciman is the New York Times bestselling author of Call Me By Your Name, Out of Egypt, Eight White Nights, False Papers, Alibis, Harvard Square, Enigma Variations, and Find Me. He's the editor of The Proust Project and teaches comparative literature at the Graduate Center of the City University of New York. He lives with his wife in Manhattan.