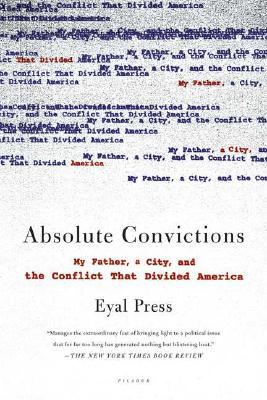 Absolute Convictions (Paperback)
My Father, a City, and the Conflict That Divided America
Picador, 9780312426576, 304pp.
Publication Date: February 20, 2007
Other Editions of This Title:
Hardcover (2/21/2006)
* Individual store prices may vary.
Description
A Booklist Editors' Choice of the Year On October 23, 1998, Barnett Slepian, an abortion provider in Buffalo, New York, was killed by a sniper's bullet. Days later, another local doctor, Shalom Press, received a threat that he was "next on the list." Within hours, the Press family was under police protection, and America's violent struggle over abortion had come to the blue-collar city of Buffalo. In Absolute Convictions, Press recounts his family's experience with protesters outside his father's clinic, patients who braved the gauntlet of demonstrators, and politicians who attempted to appease both sides. With remarkable sensitivity, Eyal Press "plunges into, and transcends, a polarized debate that makes partisans of us all" (The Nation).
About the Author
Eyal Press is a regular contributor to "The Nation "and" The American Prospect, " and his articles have appeared in "The Atlantic, The New York Times Magazine, Los Angeles Times, "and" Mother Jones." He lives in New York City.
Praise For Absolute Convictions: My Father, a City, and the Conflict That Divided America…
"Eyal Press manages the extraordinary feat of bringing light to a political issue that for far too long has generated nothing but blistering heat."--The New York Times Book Review

"If a book about abortion can be wise, beautiful and satisfying, this is it."--The Globe and Mail (Toronto)

"A lucid social history."--The New Yorker

"The action in his story is gripping, at times violent, and almost always personal, but he tells the story with analytical rigor and moral insight which make his memoir important history."--George Packer, author of The Assassins' Gate: America in Iraq "A scrupulous reporter . . . Deftly integrating personal and social history, Press junior chronicles his father's path to accidental heroism. . . . An absorbing narrative."--The Village Voice

"Abortion is a tricky topic and Press is brave to take it on. In many ways he succeeds, elegantly capturing the emotions, myths and realities that surround this issue. . . . [This book] will allow a much deeper understanding and a better appreciation of both points of view."--The Washington Post Book World

"The functional lesson that can be taken from Press's extremely helpful and concise histories of both movements is a lesson in responsibility. It's a story of how those who should have known better stood aside while the reckless and heedless polluted a difficult civic discussion with the histrionic language of incitement."--Los Angeles Times
or
Not Currently Available for Direct Purchase