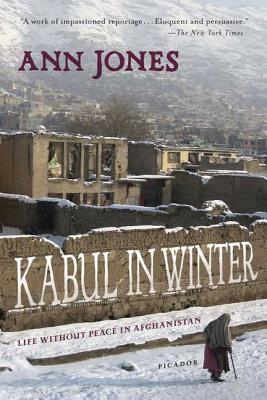 Kabul in Winter (Paperback)
Life Without Peace in Afghanistan
Picador, 9780312426590, 336pp.
Publication Date: March 6, 2007
* Individual store prices may vary.
Description
Soon after the bombs stopped falling on Kabul, award-winning journalist and women's rights activist Ann Jones set out for the shattered city. This is her trenchant report from the city where she spent the next four winters working in humanitarian aid. Investigating the city's prison for women, retraining Kabul's long-silenced English teachers, Jones enters the lives of everyday women and men and reveals through small events some big disjunctions: between the new Afghan "democracy" and the still-entrenched warlords, between American promises and performance, between what's boasted of and what is. At once angry, profound, and starkly beautiful, Kabul in Winter brings alive the people and day-to-day life of a place whose future depends upon our own.
About the Author
Ann Jones, writer and photographer, is the author of seven previous books, including War Is Not Over When It's Over, Kabul in Winter, Women Who Kill, and Next Time She'll Be Dead. Since 9/11, Jones has worked with women in conflict and post-conflict zones, principally Afghanistan, and reported on their concerns. An authority on violence against women, she has served as a gender adviser to the United Nations. Her work has appeared in numerous publications, including The New York Times and The Nation.
Praise For Kabul in Winter: Life Without Peace in Afghanistan…
"A work of impassioned reportage, a sympathetic observer's damage assessment of a country torn apart by warlords, religious fanatics, and ill-advised superpower conflicts dating back more than a century . . . Eloquent and persuasive." —The New York Times
"[A] potent and disturbing new book." —O, The Oprah Magazine
"Often I felt a desire to thank Jones for shining a flashlight on a corner of human experience still so shrouded in shadow." —The Christian Science Monitor
"We meet many remarkable people in this angry, eloquent book, but none more remarkable than Jones herself." —Harper's
"[An] illuminating and complex book." —Entertainment Weekly
"Jones's book gathers power as it goes on . . . and some of her descriptions approach poetry." —The Washington Post
"Chilling . . . Jones's impressions are vividly rendered. . . . This achingly candid commentary brings the country's sobering truths to light." —Booklist
"Jones focuses particularly on Afghan women, whose lives are often permeated by violence. Her sharp eye and quick wit enable vivid writing." —Publishers Weekly
"A passionate--often grim--account of a country and a people trying to find peace after decades of war." —Kirkus Reviews