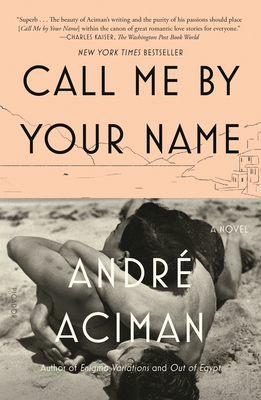 Call Me by Your Name (Paperback)
Picador USA, 9780312426781, 248pp.
Publication Date: January 22, 2008
Description
A New York Times Notable Book of the Year
A Publishers Weekly Best Book of the Year
A Washington Post Best Fiction Book of the Year
A New York Magazine "Future Canon" Selection
A Chicago Tribune Favorite Book of the Year
One of The Seattle Times' Michael Upchurch's Favorite Books of the Year
An Amazon Top 100 Editors' Picks of the Year
An Amazon Top 10 Editors' pick: Debut Fiction (#6)
An Amazon Top 10 Editors' pick: Gay & Lesbian (#1)
Call Me by Your Name is the story of a sudden and powerful romance that blossoms between an adolescent boy and a summer guest at his parents' cliffside mansion on the Italian Riviera. During the restless summer weeks, unrelenting but buried currents of obsession, fascination, and desire intensify their passion as they test the charged ground between them and verge toward the one thing both already fear they may never truly find again: total intimacy. Andre Aciman's critically acclaimed debut novel is a frank, unsentimental, heartrending elegy to human passion.
About the Author
Andre Aciman is the author of Eight White Nights, Out of Egypt, False Papers, Alibis, and Harvard Square, and the editor of The Proust Project (all published by FSG). He teaches comparative literature at the Graduate Center of the City University of New York and lives with his wife in Manhattan.
Praise For Call Me by Your Name…
"Superb . . . The beauty of Aciman's writing and the purity of his passions should place this extraordinary first novel within the canon of great romantic love stories for everyone."--Charles Kaiser, The Washington Post Book World
"An extraordinary examination of longing and the complicated ways in which we negotiate the experience of attraction. . . . It's startling that a novel so bracingly unsentimental--alert to the ways we manipulate, second-guess, forestall, and finally reach stumblingly toward one another--concludes with such emotional depths."--Mark Doty, O, The Oprah Magazine
"This novel is hot . . . a love letter, an invocation, and something of an epitaph. . . . An exceptionally beautiful book."--Stacey D'Erasmo, The New York Times Book Review
"If you are prepared to take a hard punch in your gut, and like brave, acute, elated, naked, brutal, tender, humane, and beautiful prose, then you've come to the right place."--Nicole Krauss, author of The History of Love
"A great love story . . . every phrase, every ache, every giddy rush of sensation in this beautiful novel rings true."--Michael Upchurch, The Seattle Times
"The novel is richly, sensuously detailed . . . luminous. . . . Aciman deftly charts a burgeoning relationship that both parties want and fear."--Karen Campbell, The Boston Globe
Advertisement