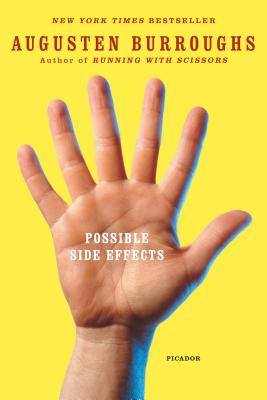 Possible Side Effects (Paperback)
Picador USA, 9780312426811, 291pp.
Publication Date: April 17, 2007
Description
National Bestseller
From the #1 "New York Times" bestselling author of "Running with Scissors" comes Augusten Burroughs's most provocative collection of true stories yet. From nicotine gum addiction to lesbian personal ads to incontinent dogs, "Possible Side Effects" mines Burroughs's life in a series of uproariously funny essays. These are stories that are uniquely Augusten, with all the over-the-top hilarity of "Running with Scissors, " the erudition of "Dry, " and the breadth of "Magical Thinking." A collection that is universal in its appeal and unabashedly intimate, "Possible Side Effects "continues to explore that which is most personal, mirthful, disturbing, and cherished, with unmatched audacity. A cautionary tale in essay form. Be forewarned--hilarious, troubling, and shocking results might occur.
About the Author
Augusten Burroughs is the #1 New York Times bestselling author of Running with Scissors, Sellevision, Dry, and Magical Thinking. A film version of Running with Scissors was adapted for the screen by Ryan Murphy. Augusten has been named one of the fifteen funniest people in America by Entertainment Weekly. He lives in New York City and western Massachusetts.
Praise For Possible Side Effects…
"Unflinchingly, Augusten Burroughs gouges himself (literally and figuratively), bleeds, gets it on paper--often without a neat resolution or the genre's obligatory epiphany--and then makes you laugh. Now that's genius."--The New York Times Book Review
 
"Burroughs makes good, snarky company even with nothing serious in mind."--The New York Times
 
"Oh, that boy is trouble. Augusten Burroughs offers more tales of his dysfunctional family and his ill-fated forays into polite society in his outrageously funny new collection of essays, Possible Side Effects. . . . Tart, smart, and wicked fun."--O, The Oprah Magazine
 
"The primary reason for reading the essays in Possible Side Effects is to enjoy the sound of his rueful, funny, faintly sulky voice. . . . This is a book by someone who understands the frailty and absurdity of the human condition."--The Washington Post Book World "These essays aren't for the faint-hearted . . . but you will laugh, a lot, and out loud, sometimes cringing. . . . You may see yourself here, with the sting such recognition entails."--The Oregonian
 
"Augusten Burroughs's spare style and facility with double entendre are well suited to the biting comic essay form. He tackles everything from the tooth fairy to doll-collecting innkeepers to lesbian personal ads in this volume, and the result is fairly even and definitely hard to put down once you begin. Burroughs's greatest strengths as a memoirist are his refusal to fit into one easy box (gay man, alcoholic, ad man, New Yorker, hypochondriac, compulsive slob) and his ability to elevate reader curiosity using tone and plain observations. . . . He somehow manages to lure you in time after time with his unique way of describing things that could have happened to anyone, but didn't--at least not quite this way."--The Globe and Mail (Toronto)
 
"From the author of the bestsellers Running with Scissors and Magical Thinking comes another set of memoir-style essays capturing Burroughs's unique and humorous perspective on life's twists and turns. . . . Burroughs comically documents his diverse experiences, from childhood and adulthood, using aspects of his character--his social isolation, slovenliness, and imagination, to name just a few."--Daily News (New York)
 
"At this point, labeling Augusten Burroughs a memoirist is a bit of an understatement. . . . Burroughs has excavated every crevice of his personal life for material. So maybe calling him a miner is more accurate. Fortunately, his work is much more environmentally friendly. . . . Burroughs is funny--when he's not breaking your heart. . . . Burroughs's breezy, clear-cut writing style is perfectly matched to his subject matter: prose-y when necessary but highly conversational, fluid, and frank . . . Something wonderful and new to savor."--The Toronto Star
 
"'The Forecast for Sommer' is a gut-wrenching ode to a suicidal friend of his mother's, while 'The Georgia Thumper' tackles his hatred toward his cruel maternal grandmother. Those two stories alone are worth the book's price."--Entertainment Weekly
 
"In essay after essay, Burroughs's troubles follow one another in hilarious succession. . . . He can be profoundly moving."--The Atlanta Journal-Constitution
 
"Augusten Burroughs returns with Possible Side Effects, another lewd but sophisticated collection of intimately personal essays. Brave, dark, and screamingly funny, this book is so engaging it'll leave you craving more."--Harper's Bazaar
 
"His ruminations on everything from Nicorette gum, the BBC, pornography, and his messed-up childhood with a delusional manic-depressive mother read like a darker, hipper David Sedaris. . . . A funny, sharp, and totally enjoyable read."--Jane magazine
 
"Delightful . . . This book is yet another testament to his wild imagination and could keep the readers up at night as well as help the author gain a whole new legion of fans . . . Sure to enthrall . . . A memorable book; highly recommended."--Library Journal
 
"He's learned to make love, not Dewar's . . . Edgy at the edges but soft in the center, Possible Side Effects connects to neurotic midlifers, slightly off-kilter, kidless, dog-doting, and solitary souls."--Baltimore Sun
 
"Memorable and well worth reading . . . His unique perspective [is] fashioned from a lifetime of bad influences, inner torment, and a salad bowl of insecurities. And what is truly amazing: He can find the humor in it."--Associated Press
 
"Burroughs's twisted nature has an immediate appeal. . . . Some sketches mine the indignities of his stint in advertising; others turn to fresh material of ever-so-slightly-ruffled domestic bliss with his saintly boyfriend, Dennis. . . . Another entry, about a burn-scarred dermatologist who offers ten-year-old Burroughs the tenderness his narcissistic mother can't, is so genuine and heartbreaking that you slow yourself to savor it."--San Francisco Chronicle
 
"Burroughs's perceptive chronicle of his adult and childhood experiences is both poignant and self-deprecating--and best of all, it is laugh-out-loud funny."--Philadelphia City Paper
Advertisement