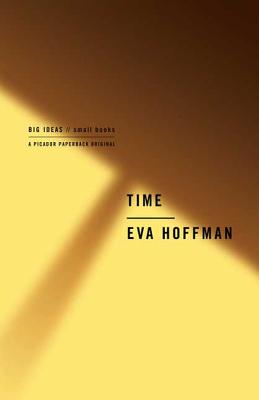 Time (Paperback)
Big Ideas, Small Books (BIG IDEAS//small books)
Picador, 9780312427276, 224pp.
Publication Date: October 27, 2009
* Individual store prices may vary.
Description
Novelist, cultural commentator, memoirist, and historian Eva Hoffman examines our ever-changing perception of time in this inspired addition to the BIG IDEAS/small books series
Time has always been the great given, the element that establishes the governing facts of human fate that cannot be circumvented, deconstructed, or wished away. But these days we are tampering with time in ways that affect how we live, the textures of our experience, and our very sense of what it is to be human. What is the nature of time in our time? Why is it that even as we live longer than ever before, we feel that we have ever less of this basic good? What effects do the hyperfast technologies--computers, video games, instant communications--have on our inner lives and even our bodies? And as we examine biology and mind on evermore microscopic levels, what are we learning about the process and parameters of human time? Hoffman regards our relationship to time--from jet lag to aging, sleep to cryogenic freezing--in this broad, eye-opening meditation on life's essential medium and its contemporary challenges.
About the Author
Eva Hoffman is the author of Lost in Translation: A Life In A New Language, Shtetl, and The Secret. Her essays and journalism have appeared in The New York Times, The Atlantic, The Yale Review, and other publications.
Praise For Time: Big Ideas, Small Books (BIG IDEAS//small books)…
"Eva Hoffman is as accomplished a memoirist and critic as virtually any contemporary American writer. . . . Her criticism and reviewing are characterized by a crystalline prose style and intimacy of thought, and they range over an astonishing spectrum." —The New York Times Book Review
"It is one of those books. . . that hits a newly discovered nerve and takes a few steps further towards civilizing the planet." —The Guardian on Lost in Translation
"A daring and generous book, measured in style, passionate in intent." —The Nation on Shtetl
"Hoffman examines this philosophically fraught subject in unpretentious, clear chapters: asking how time affects our bodies, our minds, our cultures, and, finally, how time has accelerated and changed with the advent of the concept of "immediacy"--or, as she puts it, "what pace and density of stimulus we need in order to feel that something 'interesting' is happening." —Benjamin Moser, Harper's
"Best known as a novelist and memoirist (Lost in Translation: A Life in a New Language), Hoffman deftly tackles this complex topic in a highly readable and entertaining way… This is a book for readers interested in exploring the world around them or hoping to see their surroundings in a new light. A fascinating and easy-to-read meditation on a deceptively simple concept." —Library Journal