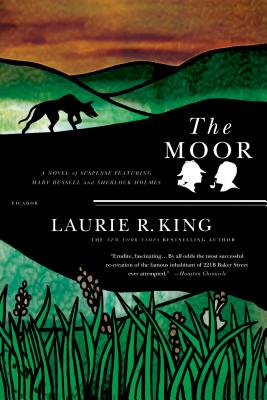 The Moor (Paperback)
A Novel of Suspense Featuring Mary Russell and Sherlock Holmes (A Mary Russell Mystery #4)
Picador, 9780312427399, 320pp.
Publication Date: October 30, 2007
Other Editions of This Title:
Digital Audiobook (1/6/2014)
Mass Market Paperback (1/1/1999)
CD-Audio (10/7/2014)
Pre-Recorded Audio Player (6/2/2014)
* Individual store prices may vary.
Description
In the eerie wasteland of Dartmoor, Sherlock Holmes summons his devoted wife and partner, Mary Russell, from her studies at Oxford to aid the investigation of a death and some disturbing phenomena of a decidedly supernatural origin. Through the mists of the moor there have been sightings of a spectral coach made of bones carrying a woman long-ago accused of murdering her husband--and of a hound with a single glowing eye. Returning to the scene of one of his most celebrated cases, The Hound of the Baskervilles, Holmes and Russell investigate a mystery darker and more unforgiving than the moors themselves, in Laurie R. King's The Moor.
About the Author
Laurie R. King is the Edgar Award–winning author of the Kate Martinelli novels and the acclaimed Mary Russell-Sherlock Holmes mysteries, as well as a few stand-alone novels. The Beekeeper's Apprentice, the first in her Mary Russell series, was nominated for an Agatha Award and was named one of the Century's Best 100 Mysteries by the Independent Mystery Booksellers Association. A Monstrous Regiment of Women won the Nero Wolfe Award. She has degrees in theology, and besides writing she has also managed a coffee store and raised children, vegetables, and the occasional building. She lives in northern California.
Praise For The Moor: A Novel of Suspense Featuring Mary Russell and Sherlock Holmes (A Mary Russell Mystery #4)…
"Erudite, fascinating . . . the most successful re-creation of the famous inhabitant of 221B Baker Street ever attempted." —The Houston Chronicle
"There's no resisting the appeal of Laurie R. King's thrillingly moody scenes of Dartmoor and her lovely evocations of its legends." —The New York Times Book Review
"Dazzling may be the word to describe King's latest Mary Russell-Sherlock Holmes adventure. . . . Add King's devilishly clever plot and eccentric characters, her ability to achieve a perfect balance between serious mystery and lighthearted humor, and the charm with which she develops the captivating relationship between Holmes and Russell, and the result is a superbly rich read that would please Doyle himself." —Booklist
"King has the tone, mood, and voice precisely right. . . . Very good." —The Boston Globe
"Mary's description of how she thinks through all the elements of a mystery--so deep in thought as if she were in a trance---is excellent." —Salon.com