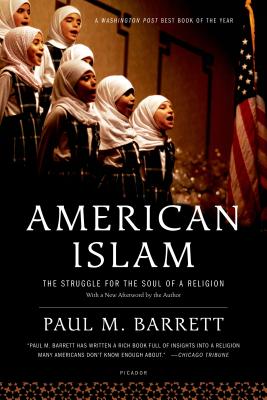 American Islam (Paperback)
St. Martins Press-3pl, 9780312427450, 312pp.
Publication Date: December 26, 2007
* Individual store prices may vary.
Description
There are as many as six million Muslims living in the United States, and in American Islam, Paul M. Barrett takes us into their homes, mosques, and private gatherings, from West Virginia to Los Angeles, depicting a population of striking variety. In vivid, subtle, artful prose, Barrett tells seven stories of American Muslims in all their stereotype-defying complexity. Theirs is a dramatic new chapter in the American story, and American Islam is an intimate and vibrant group portrait of American Muslims today.
About the Author
Paul M. Barrett, for eighteen years a reporter and editor at The Wall Street Journal, where American Islam originated, currently directs the investigative reporting team at BusinessWeek. He is the author of The Good Black: A True Story of Race in America.
Praise For American Islam…
"Paul M. Barrett has written a rich book full of insights into a religion many Americans don't know enough about."--Chicago Tribune
"A thoughtful exploration that is both comforting and alarming . . . American Islam reveals the variety of Muslim experience in the U.S., as well as profound aspects of Islam that are underappreciated in this country."--The Wall Street Journal
"These seven lives, and all the others they represent, heighten my sense that we should be practicing a more complicated patriotism, one with a pluralistic gaze."--Los Angeles Times
"Well wrought and engaging . . . A welcome antidote to the wide spread Islamophobia that has infected so many Americans over the last five years . . . The book makes a compelling argument that the greatest tool in America's arsenal in the 'war on terror' may be its own thriving and thoroughly assimilated Muslim community."--The Washington Post Book World
"Timely and engaging."--The New York Times
"This is a smart, careful look at America in the post-9/11 world. It is definitely worth the time of anyone wondering where the country is going."--Thomas E. Ricks, author of Fiasco: The American Military Adventure in Iraq
"[American Islam] fills a real need and does so remarkably well. . . . It delivers a set of powerful insights about Muslim life in the United States and the tensions that are shaping the community . . . Barrett's carefully crafted approach is a smart one."--Slate.com