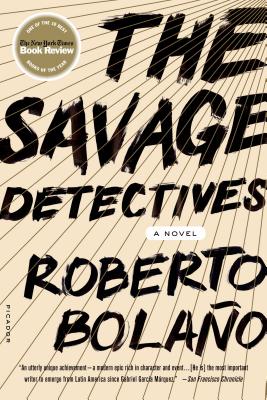 The Savage Detectives (Paperback)
Picador USA, 9780312427481, 648pp.
Publication Date: March 4, 2008
* Individual store prices may vary.
Description
National Bestseller
In this dazzling novel, the book that established his international reputation, Roberto Bola o tells the story of two modern-day Quixotes--the last survivors of an underground literary movement, perhaps of literature itself--on a tragicomic quest through a darkening, entropic universe: our own. The Savage Detectives is an exuberant, raunchy, wildly inventive, and ambitious novel from one of the greatest Latin American authors of our age.
About the Author
Roberto Bolaño was born in Santiago, Chile, in 1953. He grew up in Chile and Mexico City, where he was a founder of the Infrarealist poetry movement. His first full-length novel, The Savage Detectives, received the Herralde Prize and the Rómulo Gallegos Prize when it appeared in 1998. Roberto Bolaño died in Blanes, Spain, at the age of fifty.
Praise For The Savage Detectives…
"An utterly unique achievement--a modern epic rich in character and event. . . . [He is] the most important writer to emerge from Latin America since García Márquez."--San Francisco Chronicle
"My favorite writer . . . The Savage Detectives is an ark bearing all the strange salvage of poetry and youth from catastrophes past and those yet to come."--Nicole Krauss, author of The History of Love
"The Savage Detectives is deeply satisfying. . . . Bolaño's book throws down a great, clunking, formal gauntlet to his readers' conventional expectations. . . . A very good novel."--Thomas McGonigle, Los Angeles Times
"One of the most respected and influential writers of [his] generation . . . At once funny and vaguely, pervasively, frightening."--John Banville, The Nation
"A bizarre and mesmerizing novel . . . It's a lustful story--lust for sex, lust for self, lust for the written word."--Esquire
"Roberto Bolaño's masterwork, at last translated into English, confirms this Chilean's status as Latin America's literary enfant terrible."--Vogue
"Combustible . . . A glittering, tumbling diamond of a book . . . When you are done with this book, you will believe there is no engine more powerful than the human voice."--Emily Carter Roiphe, Star Tribune (Minneapolis)
"An exuberantly sprawling, politically charged picaresque novel."--Elle
"Wildly enjoyable . . . Bolaño beautifully manages to keep his comedy and his pathos in the same family."--The New York Times Book Review