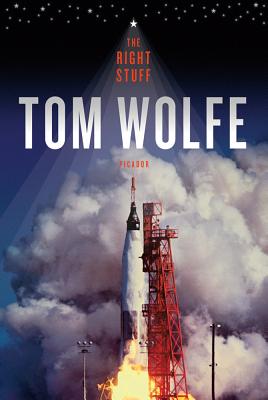 The Right Stuff
Paperback

* Individual store prices may vary.
Description
From "America's nerviest journalist" (Newsweek)--a breath-taking epic, a magnificent adventure story, and an investigation into the true heroism and courage of the first Americans to conquer space. "Tom Wolfe at his very best" (The New York Times Book Review)

Millions of words have poured forth about man's trip to the moon, but until now few people have had a sense of the most engrossing side of the adventure; namely, what went on in the minds of the astronauts themselves - in space, on the moon, and even during certain odysseys on earth. It is this, the inner life of the astronauts, that Tom Wolfe describes with his almost uncanny empathetic powers, that made The Right Stuff a classic.
Praise For The Right Stuff…
"Technically accurate, learned, cheeky, risky, touching, tough, compassionate, nostalgic, worshipful, jingoistic . . . The Right Stuff is superb." —The New York Times Book Review

"One of the most romantic and thrilling books ever written about men who put themselves in peril." —The Boston Globe

"An exhilarating flight into fear, love, beauty, and fiery death . . . Magnificent." —People

"Absolutely first class . . . Improbable as some of Wolfe's tales seem, I know he's telling it like it was." —The Washington Post Book World

"Crammed with inside poop and racy incident . . . fast cars, booze, astro groupies, the envies and injuries of the military caste system . . . Wolfe lays it all out in brilliantly staged Op Lit scenes." —Time

"Splendid . . . It shows our propensity to manufacture heroes, and, just as quickly, to forget them; it shows how a scientific program was exploited for political advantage; it provides a revealing character study of seven exceptional Americans." —The Saturday Review
Picador, 9780312427566, 368pp.
Publication Date: March 4, 2008
About the Author
Tom Wolfe (1930-2018) was one of the founders of the New Journalism movement and the author of such contemporary classics as The Electric Kool-Aid Acid Test, The Right Stuff, and Radical Chic & Mau-Mauing the Flak Catchers, as well as the novels The Bonfire of the Vanities, A Man in Full, and I Am Charlotte Simmons. As a reporter, he wrote articles for The Washington Post, the New York Herald Tribune, Esquire, and New York magazine, and is credited with coining the term, "The Me Decade."

Among his many honors, Tom was awarded the National Book Award, the John Dos Passos Award, the Washington Irving Medal for Literary Excellence, the National Humanities Medal, and National Book Foundation Medal for Distinguished Contribution to American Letters.

A native of Richmond, Virginia, he earned his B.A. at Washington and Lee University, graduating cum laude, and a Ph.D. in American studies at Yale. He lived in New York City.