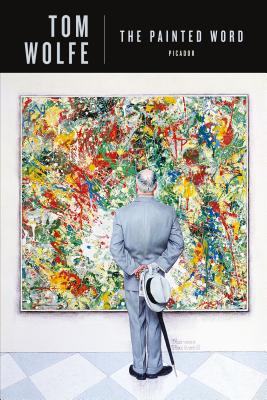 The Painted Word (Paperback)
Picador USA, 9780312427580, 106pp.
Publication Date: November 1, 2008
Description
"America's nerviest journalist" (Newsweek) trains his satirical eye on Modern Art in this "masterpiece" (The Washington Post)

Wolfe's style has never been more dazzling, his wit never more keen. He addresses the scope of Modern Art, from its founding days as Abstract Expressionism through its transformations to Pop, Op, Minimal, and Conceptual. The Painted Word is Tom Wolfe "at his most clever, amusing, and irreverent" (San Francisco Chronicle).
About the Author
Tom Wolfe is the author of a dozen books, among them such contemporary classics as The Bonfire of the Vanities, The Right Stuff, and I Am Charlotte Simmons. He lives in New York City.
Praise For The Painted Word…
"If you have ever stared uncomprehendingly at an abstract painting that admired critics have said you ought to dig, take heart. Tom Wolfe . . . is on your side. The Painted Word may enrage you. It may confirm your darkest suspicions about Modern Art. In any case, it will amuse you."--New York Sunday News

"Tom Wolfe is a journalist who always manages to combine an encyclopedic store of inside knowledge with the obstinate detachment of a visitor from Mars, not to mention a brilliant style and incisive wit."--San Francsico Chronicle

"The Painted Word may well be Tom Wolfe's most successful piece of social criticism to date."--The New York Times
"The Painted Word is a masterpiece. No one in the art world . . . could fail to recognize its essential truth. I read it four times, each of them with mounting envy for Wolfe's eye, ear, and surgical skill."--The Washington Post
"His eye and ear for detailed observations are incomparable; and observation is to the satirist what bullets are to a gun."--The Boston Sunday Globe
Advertisement