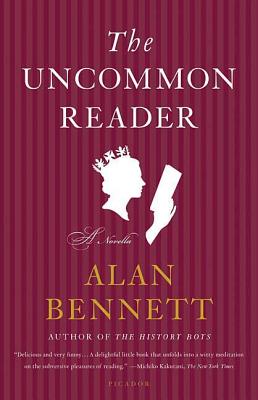 The Uncommon Reader
A Novella
Paperback

* Individual store prices may vary.
Other Editions of This Title:
Hardcover (9/18/2007)
Description
From one of England's most celebrated writers, a funny and superbly observed novella about the Queen of England and the subversive power of reading

When her corgis stray into a mobile library parked near Buckingham Palace, the Queen feels duty-bound to borrow a book. Discovering the joy of reading widely (from J. R. Ackerley, Jean Genet, and Ivy Compton-Burnett to the classics) and intelligently, she finds that her view of the world changes dramatically. Abetted in her newfound obsession by Norman, a young man from the royal kitchens, the Queen comes to question the prescribed order of the world and loses patience with the routines of her role as monarch. Her new passion for reading initially alarms the palace staff and soon leads to surprising and very funny consequences for the country at large.

With the poignant and mischievous wit of The History Boys, England's best loved author Alan Bennett revels in the power of literature to change even the most uncommon reader's life.
Praise For The Uncommon Reader: A Novella…
"A delicious and very funny what-if.... a delightful little book that unfolds into a witty meditation on the subversive pleasures of reading.... Mr. Bennett has written a captivating fairy tale ... a tale that showcases its author's customary élan and keen but humane wit." —Michiko Kakutani, The New York Times

"Bennett's jokes are so beautifully modulated.... The Uncommon Reader is a piece of audacious lèse majesté which, in an earlier age, would have put its author's head on a spike.... Bennett knows what he is doing." —The Guardian

"A kind of palace fairy tale for grown-ups.... [[Bennett's]] account of the queen's adventures often made me laugh out loud." —Jeremy McCarter, The New York Times

"Briskly original and subversively funny." —Publishers Weekly

"[Bennett's] subtle wit and tonal command show why he is so beloved in his native Britain." —Kirkus Reviews

"Alan Bennett is one of the greatest comic writers alive, and The Uncommon Reader is Bennett at his best--touching, thoughtful, hilarious, and exquisite in its observations." —Helen Fielding, author of Bridget Jones's Diary

"Hilarious and stunning . . . The conceit offered here by Mr. Bennett, the beloved British author and dramatist, is that a woman of power can find and love the power in books. It is a simple equation and one that yields deep rewards. In what is a surprising and surprisingly touching novella, Mr. Bennett shows us why books matter to the queen, his "uncommon reader" and why they matter so much to the rest of us." —Carol Herman, The Washington Times

"Hilarious and pointed . . . The Uncommon Reader is a political and literary satire. But it's also a lovely lesson in the redemptive and subversive power of reading and how one book can lead to another and another and another. . . . But most of all, The Uncommon Reader is a lot of fun to read." —Bob Minzesheimer, USA Today

"One of the most subtly ingratiating prose stylists of our time . . . charming enough and wise enough that you will certainly want to keep it around for rereading--unless you decided to share it with friends." —Michael Dirda, The Washington Post

"Clever and entertaining . . . The Uncommon Reader is a celebration of both reading and its counterpart, independent thinking." —Maud Newton, Los Angeles Times
Picador, 9780312427641, 128pp.
Publication Date: September 30, 2008
About the Author
Alan Bennett has been one of England's leading dramatists since the success of Beyond the Fringe in the 1960s. His work includes the Talking Heads television series, and the stage plays Forty Years On, The Lady in the Van, A Question of Attribution, and The Madness of King George III. His play, The History Boys (now a major motion picture), won six Tony Awards, including best play, in 2006. In the same year his memoir, Untold Stories, was a number-one bestseller in the United Kingdom.
Does your group meet regularly? If so, how do you think the Queen, as fountain of honor, would appraise your list of reading so far?
The Queen says that she reads because, "One has a duty to find out what people are like." Yet she begins by reading Nancy Mitford and Ivy Compton-Burnett, hardly a stretch for Her Royal Majesty. How did you begin your reading career? Was it Anne of Green Gables or Barbara Cartland? What treasured books on your group's list closely reflect your own world and background? Do you read to understand others? Is anyone present at this meeting a member of the titled aristocracy?
Early in The Uncommon Reader, the Queen explains that she has resisted reading because it is a hobby, and therefore an expression of a preference—preferences exclude people and are to be avoided. Why does she fear that reading will exclude people – haven't we been brought together today by reading? Is your reading group very exclusive? Have you ever denied membership to someone who wanted to join?
"Herself part of the panoply of the world, why now was she intrigued by books, which, whatever else they might be, were just a reflection of the world or a version of it? Books? She had seen the real thing." Do you believe there is a difference between reading and experiencing? Isn't the act of reading a form of experience, or is that vein of thinking distinctly privileged?
At first the Queen says that her purpose in reading is not primarily literary: it is for analysis and reflection. Why exactly do you read; is it a lofty endeavor or a fundamentally human one?
What do you think of the Queen's values as a reader, for example her insistence upon reading a book all the way through to the end, regardless her level of engagement? Surely most of us would put a book down if within fifty pages it proved to be a tedious waste of time. Have you ever attempted to discuss a book you haven't read?
Authors, the Queen decides, were probably best met within the pages of their novels, left to the imagination like their characters. Have you met any famous writers? What were they like? Was your experience anything like the Queen's?
The appeal of books, according to the Queen, lay in their indifference: there is something undeferring about literature, she says. Books do not care who reads them or whether one read them or not. All readers are equal, herself included. Do you agree? Have you ever felt unequal to a book? Superior to one?
When the Queen first meets the man in the book mobile, she refers to herself as a pensioner – this is clearly a joke. Talk about how Alan Bennett gives voice to the Queen and draws humor from her. How had your feelings for this seemingly inaccessible figure changed by book's end?
Why is Norman fond of Cecil Beaton, David Hockney and J.R. Ackerley, what do these three people have in common, besides being British artists and writers?
The Queen finds that one book often lead to another; that doors opened wherever she turned ("the days weren't long enough for the reading she wanted to do"). Has The Uncommon Reader opened doors for you? Has it inspired or emboldened you to try a book you've been putting off. Proust, perhaps?
When the Queen begins to ask her subjects what they are reading, she is usually met with a shrug (or the Bible, or Harry Potter). Are people intimidated by reading, or are they just lazy and dim?
As the Queen reads, she grows less interested in her royal duties, and even her appearance (the "permutations" of her wardrobe) goes into decline. Is she becoming more normal, more common? How has reading endangered her ability to carry out her role as a focus for British identity and unity? Isn't that role just a little too much for anyone to shoulder?
At first the Queen does not like Henry James's Portrait of a Lady ("oh, do get on!"), but she finds that reading is like a muscle that needs to be developed, and later she changes her mind about James. Have you ever had a similar experience, upon revisiting a challenging book? Would you consider reading The Uncommon Reader again, in order to glean further nuance from its pages?