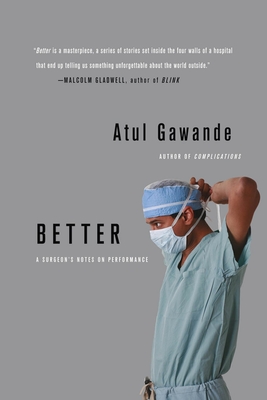 Better
A Surgeon's Notes on Performance
Paperback

* Individual store prices may vary.
Other Editions of This Title:
Digital Audiobook (4/2/2007)
Hardcover (4/3/2007)
Description
NATIONAL BESTSELLER

The New York Times bestselling author of Being Mortal and Complications examines, in riveting accounts of medical failure and triumph, how success is achieved in a complex and risk-filled profession

The struggle to perform well is universal: each one of us faces fatigue, limited resources, and imperfect abilities in whatever we do. But nowhere is this drive to do better more important than in medicine, where lives are on the line with every decision. In this book, Atul Gawande explores how doctors strive to close the gap between best intentions and best performance in the face of obstacles that sometimes seem insurmountable.

Gawande's gripping stories of diligence, ingenuity, and what it means to do right by people take us to battlefield surgical tents in Iraq, to labor and delivery rooms in Boston, to a polio outbreak in India, and to malpractice courtrooms around the country. He discusses the ethical dilemmas of doctors' participation in lethal injections, examines the influence of money on modern medicine, and recounts the astoundingly contentious history of hand washing. And as in all his writing, Gawande gives us an inside look at his own life as a practicing surgeon, offering a searingly honest firsthand account of work in a field where mistakes are both unavoidable and unthinkable.

At once unflinching and compassionate, Better is an exhilarating journey narrated by "arguably the best nonfiction doctor-writer around" (Salon). Gawande's investigation into medical professionals and how they progress from merely good to great provides rare insight into the elements of success, illuminating every area of human endeavor.
Praise For Better: A Surgeon's Notes on Performance…
"Better is a masterpiece, a series of stories set inside the four walls of a hospital that end up telling us something unforgettable about the world outside." —Malcolm Gladwell, author of Talking to Strangers

"Atul Gawande's insightful book illuminates the challenging choices members of the profession face every day." —Susan Salter Reynolds, Los Angeles Times

"Remarkably honest and human accounts . . . describing professional moments of fear, guilt, embarrassment, and humor . . . Rich in fascinating detail." —The Economist

"It's hard to think of a writer working today who makes such good use of man's quest to avoid pain and death. Atul Gawande is not only adding to the small shelf of books by doctors that every layman should read. He's using medicine to help anyone who hopes to do anything better." —Michael Lewis, author of The Blind Side

"Gawande . . . manages to capture medicine in all of its complex and chaotic glory, and to put it, still squirming with life, down on the page. . . . With this book Gawande inspires all of us, doctor or not, to be better." —Pauline W. Chen, The New York Times Book Review

"Gawande is unassuming in every way, and yet his prose is infused with steadfast determination and hope. If society is the patient here, I can't think of a better guy to have our back." —Gail Caldwell, The Boston Globe

"This is a book about failure: how it happens, how we learn from it, how we can do better. Although its focus is medicine, its message is for everybody. . . . It has already been described as a modern masterpiece—and so it is." —Jeremy Lawrence, The Independent (UK)

"Better is a mesmerizing book with fascinations on every page, told with mastery, insight, compassion, and humility by a surgeon who doesn't flinch from taboo subjects or self-examination. . . . On every page, one meets a candid and thoughtful man, who pays close attention, and who somehow manages to find the right balance between intimacy and respectfulness, in a world that can be inhospitable to both." —Diane Ackerman, author of An Alchemy of Mind

"I found I had been gripping the book so hard that my fingers hurt. . . . It calls to mind one of the great classics of medical literature, Mikhail Bulgakov's A Country Doctor's Notebook. Few modern authors could stand that comparison, but Gawande can." —John Carey, The Sunday Times (UK)
Picador, 9780312427658, 288pp.
Publication Date: January 22, 2008
About the Author
Atul Gawande is the author of several bestselling books: Complications, a finalist for the National Book Award; Better; The Checklist Manifesto, and Being Mortal. He is also a surgeon at Brigham and Women's Hospital in Boston, a staff writer for The New Yorker, and a professor at Harvard Medical School and the Harvard School of Public Health. He has won the Lewis Thomas Prize for Writing about Science, a MacArthur Fellowship, and two National Magazine Awards. In his work in public health, he is Founder and Chair of Ariadne Labs, a joint center for health systems innovation, and Lifebox, a nonprofit organization making surgery safer globally. He is also chair of Haven, where he was CEO from 2018-2020. He and his wife have three children and live in Newton, Massachusetts.