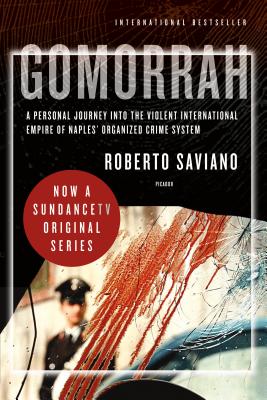 Gomorrah: A Personal Journey Into the Violent International Empire of Naples' Organized Crime System (Paperback)
A Personal Journey Into the Violent International Empire of Naples' Organized Crime System
Picador USA, 9780312427795, 301pp.
Publication Date: November 25, 2008
Description
The basis of the Sundance TV series Gomorrah
A New York Times Notable Book of the Year


A groundbreaking, unprecedented bestseller in Italy, Roberto Saviano's insider account traces the decline of the city of Naples under the rule of the Camorra, an organized crime network more powerful and violent than the Mafia. The Camorra is an elaborate, international system dealing in drugs, high fashion, construction, and toxic waste, and its influence has entirely transformed life in Campania, the province surrounding Naples.
Since seeing his first murder victim, at thirteen, Roberto Saviano has watched the changes in his home city. For Gomorrah, he disappeared into the Camorra and witnessed up close the drug cartel's audacious, sophisticated, and far-reaching corruption that has paralyzed his home city and introduced the world to a new breed of organized crime.
About the Author
Robert Saviano was born in 1979 and studied philosophy at the University of Naples. Gomorrah, his first book, has won many awards, including the prestigious 2006 Viareggio Literary Prize. After its publication, he was placed under police protection.
Praise For Gomorrah: A Personal Journey Into the Violent International Empire of Naples' Organized Crime System…
"The most important book to come out of Italy in years. . . . I could not get this brave book out of my head."--The New York Times Book Review


"Astonishing . . . gripping . . . [Saviano] exhibits the passion and heroism of a young man."--The Washington Post

"Brilliant."--The Wall Street Journal

"Read this important book and you will appreciate why Italy is still a country that needs heroes like [Saviano]."--The Guardian (UK)
"An Engrossing book, animated by a fervor that's uncommon in American investigative reporting . . . As much a literary lament as a gritty exposé."--Mother Jones
"Endlessly eye-opening and sobering."--Kirkus Reviews
Advertisement