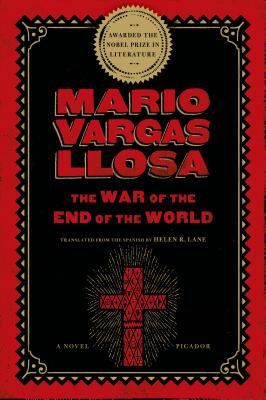 The War of the End of the World (Paperback)
Picador USA, 9780312427986, 568pp.
Publication Date: July 22, 2008
Description
Deep within the remote backlands of nineteenth-century Brazil lies Canudos, home to all the damned of the earth: prostitutes, bandits, beggars, and every kind of outcast. It is a place where history and civilization have been wiped away. There is no money, no taxation, no marriage, no census. Canudos is a cauldron for the revolutionary spirit in its purest form, a state with all the potential for a true, libertarian paradise--and one the Brazilian government is determined to crush at any cost.
In perhaps his most ambitious and tragic novel, Mario Vargas Llosa tells his own version of the real story of Canudos, inhabiting characters on both sides of the massive, cataclysmic battle between the society and government troops. The resulting novel is a fable of Latin American revolutionary history, an unforgettable story of passion, violence, and the devastation that follows from fanaticism.
About the Author
MARIO VARGAS LLOSA was awarded the Nobel Prize in Literature in 2010 "for his cartography of structures of power and his trenchant images of the individual's resistance, revolt, and defeat." Peru's foremost writer, he has been awarded the Cervantes Prize, the Spanish-speaking world's most distinguished literary honor, and the Jerusalem Prize. His many works include The Feast of the Goat, The Bad Girl, Aunt Julia and the Scriptwriter, The War of the End of the World, and The Storyteller. He lives in London.
Praise For The War of the End of the World…
"A modern tragedy on the grand scale . . . As dark as spilled blood."--Salman Rushdie, The New Republic

"A vast, fantastic, thunderous novel."--The Times (UK)

"A magnificent storyteller . . . [Vargas Llosa] gives us a cast of unforgettable characters swept up in the upheaval. . . . This is the work of a master, coming into full realization of his powers."--The Boston Sunday Globe

"His masterpiece."--Madison Smartt Bell

"An extraordinary achievement. The author gives a wonderfully vivid and impartial picture of individuals and communities."--The Guardian (UK)
Advertisement