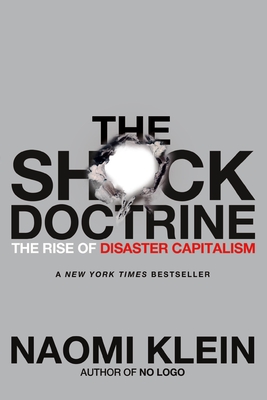 The Shock Doctrine
The Rise of Disaster Capitalism
Paperback

* Individual store prices may vary.
Other Editions of This Title:
Digital Audiobook (9/17/2007)
Description
The bestselling author of No Logo shows how the global "free market" has exploited crises and shock for three decades, from Chile to Iraq

In her groundbreaking reporting, Naomi Klein introduced the term "disaster capitalism." Whether covering Baghdad after the U.S. occupation, Sri Lanka in the wake of the tsunami, or New Orleans post-Katrina, she witnessed something remarkably similar. People still reeling from catastrophe were being hit again, this time with economic "shock treatment," losing their land and homes to rapid-fire corporate makeovers.

The Shock Doctrine retells the story of the most dominant ideology of our time, Milton Friedman's free market economic revolution. In contrast to the popular myth of this movement's peaceful global victory, Klein shows how it has exploited moments of shock and extreme violence in order to implement its economic policies in so many parts of the world from Latin America and Eastern Europe to South Africa, Russia, and Iraq.

At the core of disaster capitalism is the use of cataclysmic events to advance radical privatization combined with the privatization of the disaster response itself. Klein argues that by capitalizing on crises, created by nature or war, the disaster capitalism complex now exists as a booming new economy, and is the violent culmination of a radical economic project that has been incubating for fifty years.
Praise For The Shock Doctrine: The Rise of Disaster Capitalism…
"Impassioned, hugely informative, wonderfully controversial, and scary as hell." —John le Carré

"Bold and brilliantly conceived . . . Klein may well have revealed the master narrative of our time." —William S. Kowinski, San Francisco Chronicle

"This is a brilliant book, one of the most important I have read in a long time." —Howard Zinn

"Klein provides a rich description of the political machinations required to force unsavory economic policies on resisting countries and of the human toll. She paints a disturbing portrait of hubris, not only on the part of Friedman but also of those who adopted his doctrines, sometimes to pursue more corporatist objectives." —Joseph E. Stiglitz, The New York Times Book Review

"A brilliant, brave, and terrifying book. It's nothing less than the secret history of what we call the 'free market.' It should be compulsory reading." —Arundhati Roy

"Pulls the curtain back on free-market myths and exposes the forces that are really driving our economy . . . Klein's book is powerful and prophetic. . . . A brilliant dissection." —Arianna Huffington, The Huffington Post

"Naomi Klein is one of the most important new voices in American journalism today." —Seymour M. Hersh

"The Shock Doctrine is the defining, covert history of our era." —Jeremy Scahill, author of Blackwater: The Rise of the World's Most Powerful Mercenary Army
Picador, 9780312427993, 720pp.
Publication Date: June 24, 2008
About the Author
Naomi Klein is the award-winning author of the acclaimed international bestsellers The Shock Doctrine, No Logo, This Changes Everything, and No Is Not Enough. She is a contributing editor for Harper's, a reporter for Rolling Stone, and writes a regular, internationally syndicated column. She has won the James Aronson Award for Social Justice Journalism. In September 2018, she was named the inaugural Gloria Steinem Chair for Media, Culture and Feminist Studies at Rutgers University.