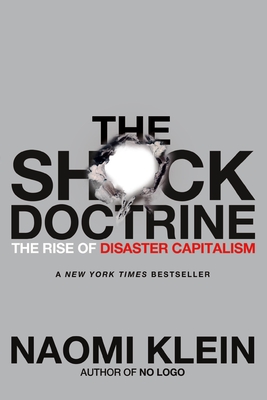 The Shock Doctrine (Paperback)
The Rise of Disaster Capitalism
Picador, 9780312427993, 720pp.
Publication Date: June 24, 2008
Other Editions of This Title:
Digital Audiobook (9/17/2007)
Hardcover (9/18/2007)
Compact Disc, Abridged (9/18/2007)
Paperback (5/1/2008)
Hardcover (9/4/2007)
* Individual store prices may vary.
Description
In this groundbreaking alternative history of the most dominant ideology of our time, Milton Friedman's free-market economic revolution, Naomi Klein challenges the popular myth of this movement's peaceful global victory. From Chile in 1973 to Iraq today, Klein shows how Friedman and his followers have repeatedly harnessed terrible shocks and violence to implement their radical policies. As John Gray wrote in The Guardian, "There are very few books that really help us understand the present. The Shock Doctrine is one of those books."
About the Author
Naomi Klein is the award-winning author of the acclaimed international bestsellers The Shock Doctrine, No Logo, This Changes Everything, and No Is Not Enough. She is a contributing editor for Harper's, a reporter for Rolling Stone, and writes a regular, internationally syndicated column. She has won the James Aronson Award for Social Justice Journalism. In September 2018, she was named the inaugural Gloria Steinem Chair for Media, Culture and Feminist Studies at Rutgers University.
Praise For The Shock Doctrine: The Rise of Disaster Capitalism…
"Impassioned, hugely informative, wonderfully controversial, and scary as hell." —John le Carré

"Bold and brilliantly conceived . . . Klein may well have revealed the master narrative of our time." —William S. Kowinski, San Francisco Chronicle

"This is a brilliant book, one of the most important I have read in a long time." —Howard Zinn

"Klein provides a rich description of the political machinations required to force unsavory economic policies on resisting countries and of the human toll. She paints a disturbing portrait of hubris, not only on the part of Friedman but also of those who adopted his doctrines, sometimes to pursue more corporatist objectives." —Joseph E. Stiglitz, The New York Times Book Review

"A brilliant, brave, and terrifying book. It's nothing less than the secret history of what we call the 'free market.' It should be compulsory reading." —Arundhati Roy

"Pulls the curtain back on free-market myths and exposes the forces that are really driving our economy . . . Klein's book is powerful and prophetic. . . . A brilliant dissection." —Arianna Huffington, The Huffington Post

"Naomi Klein is one of the most important new voices in American journalism today." —Seymour M. Hersh

"The Shock Doctrine is the defining, covert history of our era." —Jeremy Scahill, author of Blackwater: The Rise of the World's Most Powerful Mercenary Army