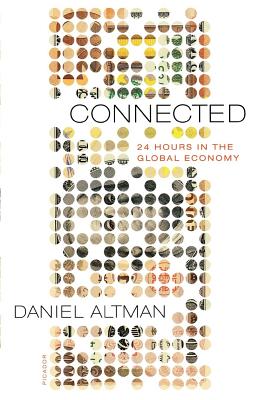 Connected (Paperback)
24 Hours in the Global Economy
Picador, 9780312428099, 304pp.
Publication Date: September 2, 2008
* Individual store prices may vary.
Description
In the span of one day, how does the world do business?

In Connected: 24 Hours in the Global Economy, journalist and economist Daniel Altman answers this question by visiting more than a dozen cities around the world and tracing the threads of our ever-changing, ever-integrating economic fabric. Readers travel to Syria, where the president wants to launch his country's first stock market; to Brazil, where a corruption scandal is brushed under the rug in the name of economic stability; to East Timor, where a new nation grapples with its impending oil wealth. Altman diagrams all the gears and cogs, showing how they fit together in the vast machinery of the global economy--all in the events of a single day. Connected: 24 Hours in the Global Economy is a new and accessible way to look at our complex world.
About the Author
Daniel Altman is the author of Outrageous Fortunes: The Twelve Surprising Trends That Will Reshape the Global Economy, Connected: 24 Hours in the Global Economy, Power in Numbers (with Philippe Douste-Blazy), and Neoconomy. He is Director of Thought Leadership at Dalberg Global Development Advisors and the founder and president of North Yard Economics, a not-for-profit consulting firm serving developing countries. He previously wrote economics columns for The Economist, the International Herald Tribune, and The New York Times and currently teaches at New York University's Stern School of Business. He lives in New York City.
Praise For Connected: 24 Hours in the Global Economy…
"Instead of the usual heavy and indigestible fare, Daniel Altman cleverly serves bite-sized, tasty portions of economic insight that will leave readers hungry for more." —Sylvia Nasar, author of A Beautiful Mind
"Altman's easy narration, merged with a few well-researched anecdotes, can offer that winning combination sought by all writers of popular economics, a succinct overview of the well-known with an original, intellectually stimulating point." —Mario Pisani, Financial Times
"Altman gives us a revealing view from the trenches." —Time
"Clever . . . [Altman] eschews straightforward narrative, favoring zoom-in, zoom-out impressions and lengthy quotations from a kaleidoscope of people." —Stephen Kotkin, The New York Times