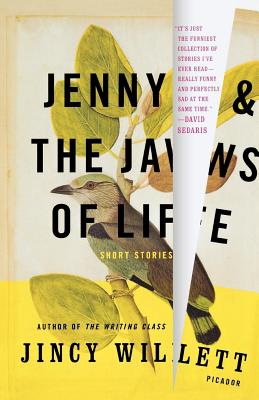 Jenny and the Jaws of Life (Paperback)
Short Stories
Picador, 9780312428105, 272pp.
Publication Date: May 27, 2008
Other Editions of This Title:
Paperback (9/14/2002)
* Individual store prices may vary.
Description
Jincy Willett is the high priestess of dark comedy. The classic stories in this collection cut through every convention, every idea of normalcy, with empathy and fearless wit, undermining all the old ideas about the happy family, the good son, the dutiful mother. In Willett's world, perversity and tenderness walk hand in hand; there's laughter and funerals, ambivalence in the nursery, and redemption for the wicked. As David Sedaris writes in his foreword, "I'm prepared to wear a sandwich board for this book. I can't help myself. It' just too good."
About the Author
JINCY WILLETT is the author of Jenny and the Jaws of Life, Winner of the National Book Award, and The Writing Class, which have been translated and sold internationally. Her stories have been published in Cosmopolitan, McSweeney's Quarterly and other magazines. She frequently reviews for The New York Times Book Review.
Praise For Jenny and the Jaws of Life: Short Stories…
"It's just the funniest collection of stories I've ever read--really funny and perfectly sad at the same time." —David Sedaris
"A triumphant collection . . . Willett can provoke whoops of laughter, wonderment, and grim speculation about the brevity of good times for human beings." —Chicago Tribune
"Exquisite . . . A great, darkly comic collection." —Esquire
"Just to be absolutely clear: I'm not recommending this title. I'm telling you: add this item to your basket." —The Guardian (UK)
"Willett is ready to join the select group of short story writers--Joyce Carol Oates and Flannery O'Connor among them--who treat lurid, graphic material with psychological acuity and deadpan wit." —The Providence Journal
"Resonates with understanding." —People
"Exhilarating. Her art has passed through anxiety and come out the other side, completely honest yet purged of the confessional whine or the need to call attention to its bravery." —The Village Voice