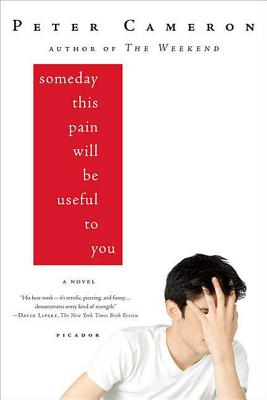 Someday This Pain Will Be Useful to You (Paperback)
A Novel
Picador, 9780312428167, 240pp.
Publication Date: April 28, 2009
Other Editions of This Title:
Hardcover (9/18/2007)
Compact Disc (11/25/2008)
* Individual store prices may vary.
Description
Someday This Pain Will Be Useful to You is the story of James Sveck, a sophisticated, vulnerable young man with a deep appreciation for the world and no idea how to live in it. James is eighteen, the child of divorced parents living in Manhattan. Articulate, sensitive, and cynical, he rejects all of the assumptions that govern the adult world around him–including the expectation that he will go to college in the fall. He would prefer to move to an old house in a small town somewhere in the Midwest. Someday This Pain Will Be Useful to You takes place over a few broiling days in the summer of 2003 as James confides in his sympathetic grandmother, stymies his canny therapist, deplores his pretentious sister, and devises a fake online identity in order to pursue his crush on a much older coworker. Nothing turns out how he'd expected.
"Possibly one of the all-time great New York books, not to mention an archly comic gem" (Peter Gadol, LA Weekly), Someday This Pain Will Be Useful to You is the insightful, powerfully moving story of a young man questioning his times, his family, his world, and himself.
About the Author
Peter Cameron is the author of Andorra (FSG, 1997), The City of Your Final Destination (FSG, 2002), and Someday This Pain Will Be Useful to You (FSG, 2007). His work has appeared in The New Yorker, Grand Street, and The Paris Review. He lives in New York City.
Praise For Someday This Pain Will Be Useful to You: A Novel…
"His best work--it's terrific, piercing, and funny. The novel demonstrates every kind of strength." —David Lipsky, The New York Times Book Review
"James Sveck is a brilliant wit of a character whose voice will echo long after his story ends." —Kristin Kloberdanz, Chicago Tribune
"Deliciously vital right from the start . . . a piece of vocal virtuosity and possibly Cameron's best book . . . It is a bravura performance, and Someday This Pain Will Be Useful to You is a stunning little book. " —Lorrie Moore, The New York Review of Books
"Cameron's prose handily marries the tangled logic of adolescence to simple, beautiful language." —Peter Terzian, Newsday
"Beautifully conceived and written . . . funny, sad, tender, and sophisticated." —Michael Cart, Booklist