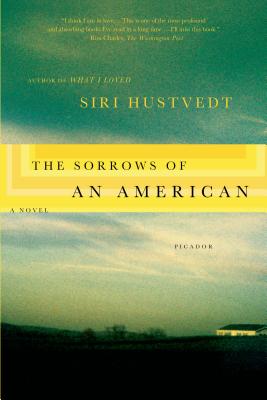 The Sorrows of an American
A Novel
Paperback

* Individual store prices may vary.
Description
When Erik Davidsen and his sister, Inga, find a disturbing note among their late father's papers, they believe he may be implicated in a mysterious death. Siri Hustvedt's The Sorrows of an American tells the story of the Davidsen family as brother and sister unbandage its wounds in the year following their father's funeral. Erik is a psychiatrist dangerously vulnerable to his patients; Inga is a writer whose late husband, a famous novelist, seems to have concealed a secret life. Interwoven with each new mystery in their lives are discoveries about their father's youth--poverty, the War, the Depression--that bring new implications to his relationship with his children.

This masterful novel reveals one family's hidden sorrows in an "elegant meditation on familial grief, memory, and imagination" (Minneapolis Star-Tribune).
Praise For The Sorrows of an American: A Novel…
"I think I am in love. . . . This is one of the most profound and absorbing books I've read in a long time." —Ron Charles, The Washington Post

"Beautiful . . . both a large-scale examination of the idea of America and a close inspection of the experiences of coping with trauma and loss." —Margot Kaminski, San Francisco Chronicle

"The Sorrows of an American is a thought-provoking book that offers pleasures across many different registers. . . . Here again [Hustvedt] proves herself a writer deftly able to weave intricate ideas into an intriguing plot." —Sylvia Brownrigg, The New York Times Book Review

"The Sorrows of an American takes on elements of a suspense novel as the various mysteries unfold, but the real question is how we reconcile ourselves to the hard truths in our lives." —Connie Ogle, The Miami Herald

"The pages turn themselves. The old story, the search for the self, holds water once again." —Susan Salter Reynolds, Los Angeles Times

"Like all enduring novelists, Hustvedt combines riveting storytelling with philosophical rumination as she dramatizes and contemplates the legacy of sorrows born of the struggles of immigrants and the psychic wounds of war, betrayal, and unrequited love." —Donna Seaman, Booklist (starred review)
Picador, 9780312428204, 320pp.
Publication Date: March 3, 2009
About the Author
Siri Hustvedt was born in 1955 in Northfield, Minnesota. She has a Ph.D. from Columbia University in English literature and is the internationally acclaimed author of several novels, The Sorrows of an American, What I Loved, The Enchantment of Lily Dahl, The Blindfold, and The Summer Without Men, as well as a growing body of nonfiction, including Living, Thinking, Looking, A Plea for Eros, and Mysteries of the Rectangle, and an interdisciplinary investigation of the body and mind in The Shaking Woman or A History of My Nerves. She has given lectures on artists and theories of art at the Prado, the Metropolitan Museum of Art in New York, and the Academy of Fine Arts in Munich. In 2011, she delivered the thirty-ninth annual Freud Lecture in Vienna. She lives in Brooklyn.