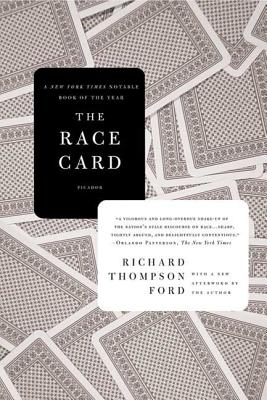 The Race Card
How Bluffing About Bias Makes Race Relations Worse
Paperback

* Individual store prices may vary.
Other Editions of This Title:
Hardcover (1/22/2008)
Description
A New York Times Notable Book of the Year

What do hurricane Katrina victims, millionaire rappers buying vintage champagne, and Ivy League professors waiting for taxis have in common? All have claimed to be victims of racism. But these days almost no one openly defends bigoted motives, so either a lot of people are lying about their true beliefs, or a lot of people are jumping to unwarranted conclusions--or just playing the race card. Daring, entertaining, and incisive, The Race Card brings sophisticated legal analysis, eye-popping anecdotes, and plain old common sense to this heated topic.
Praise For The Race Card: How Bluffing About Bias Makes Race Relations Worse…
"A vigorous and long-overdue shake-up of the nation's stale discourse on race . . . sharp, tightly argued, and delightfully contentious." —Orlando Patterson, The New York Times
"Crackles with insight and pierces the pieties of left and right . . . This history [of discrimination] only heightens the urgency of today's problems. . . . [A] passionate effort to redefine civil rights, brings a jolt of clarity." —The Washington Post
"Ford is bracing. . . . He takes dead aim at racial opportunists, opponents of affirmative action, multiculturalists, and the myriad rights organizations trying to hitch a ride on the successes of the black civil rights movement. . . . Best of all, he argues his humane, centrist position without apology or hesitation." —William Grimes, The Seattle Times
"Pragmatic . . . few would object to Ford's emphasis on the need for long-term solutions to persistent segregation and poverty." —The New Yorker
"A sharp, nuanced, yet stylish analysis . . . a superbly enlightening reflection on how America should confront its authentic legacy of racism . . . A sharp, nuanced yet stylish analysis." —The Philadelphia Inquirer
Picador, 9780312428266, 416pp.
Publication Date: March 3, 2009
About the Author
Richard Thompson Ford is the George E. Osborne Professor of Law at Stanford Law School. He has published regularly on the topics of civil rights, constitutional law, race relations, and antidiscrimination law. He is a regular contributor to Slate and has written for The New York Times, The Washington Post, The Boston Globe, and the San Francisco Chronicle. He is the author of Racial Culture: A Critique, The Race Card and Rights Gone Wrong.