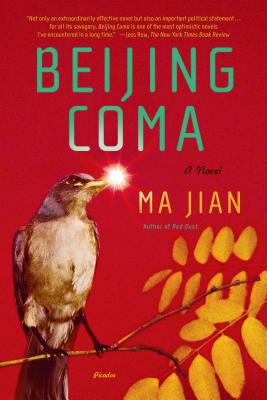 Beijing Coma
A Novel
Paperback

* Individual store prices may vary.
Other Editions of This Title:
Hardcover (5/27/2008)
Description
Dai Wei, a PhD student and protestor in Tiananmen Square in June 1989, was caught by a soldier's bullet and fell into a deep coma. But as the millennium draws near, he begins to emerge from unconsciousness, and to sense the massive changes in his country. At once a powerful allegory of a rising China, and a seminal story of the Tiananmen Square protests, Beijing Coma is Ma Jian's masterpiece.
Praise For Beijing Coma: A Novel…
"An extraordinarily effective novel . . . for all its savagery, it is one of the most optimistic novels I've encountered in a long time." —Jess Row, The New York Times Book Review
"[A] masterful new novel . . . Ma Jian offers the Chinese people an avenue through which to retrieve their souls." —Belle Yang, The Washington Post
"There are passages of extraordinary power, which, in chronicling the horrors perpetrated by the Chinese government in the Mao era and after, belong in the pantheon of dissident literature." —Michiko Kakutani, The New York Times
"Evocative . . . Part of what gives [Beijing Coma] its highly energized, manic edge is the fierceness of Ma Jian's conviction that it might be possible for a work of literature to function as a lifeline to cast out into the world." —Francine Prose, The New York Review of Books
"A courageous and clarion writer." —Donna Seaman, Booklist
"An epic novel that reminds us of the capacity of fiction to stir the conscience and exhorts us to believe in the power of even one voice." —Tom Cooper, St. Louis Post-Dispatch
"So remarkable is it that we should suddenly receive this gift, an account of Tiananmen as breathless as John Reeds' gee-whiz account of the Russian Revolution, Ten Days that Shook the World, I've almost neglected to mention how carefully Ma Jian constructs his time capsule." —John Leonard, Harper's Magazine
Picador, 9780312428365, 720pp.
Publication Date: June 9, 2009
About the Author
Ma Jian was born in Qingdao, China, in 1953. He worked as a watch-mender's apprentice, a painter of propaganda boards, and a photojournalist. At the age of thirty, he left his job and traveled for three years across China. In 1987 he completed Stick Out Your Tongue, which prompted the Chinese government to ban his future work. Ma Jian left Beijing for Hong Kong in 1987 as a dissident, but he continued to travel to China, and he supported the pro-democracy activists in Tiananmen Square in 1989. After the handover of Hong Kong he moved to Germany and then London, where he now lives.